IG story links are a great way to convert followers into customers. Instead of referring the visitor to the 'link in bio' (since let's be honest, not everyone will take the time to do so), you can direct them to your website with a simple swipe. This is quite useful for directing Instagram traffic to your brand's website, the most recent blog article, or even a freebie!
Who can use the IG link sticker?
Now in 2022, all IG Stories users get access to the link sticker (Not just 10k-follower accounts).
As expected, a billion-account deployment takes time, and many users have reported that the sticker is still not showing up on their accounts. If this is the case with your account, the only advice we can give is to update your Instagram app and say a prayer. It will ultimately appear.
And if you're one of the fortunate few with contacts at Instagram HQ, consider sending them a letter.
Adding a swipe-up link to your IG stories:
So, how do you include links in your Instagram stories?
Continue reading for more details:
Select the camera icon to begin your Instagram story
Select the padlock symbol
Include a call-to-action within your Instagram story
Return to your narrative and post!
How To Include A Hyperlink In Your Instagram Story:
Tap the camera icon to begin your IG story.
This appears directly above the word Stories.
After opening the camera icon, you have the choice to take photos, videos, and Boomerangs.
Swipe up to browse your library and share recent photos and videos.
Select the padlock icon.
Tap the chain icon and enter the URL. Tap "done" or the "green checkmark" when finished.
We recommend using bit.ly (or any other type of trackable URL!) to track your statistics if you wish to monitor link hits. After this is complete, you'll be sent to the narrative you made, where the chain icon will now be highlighted.
Incorporate a call-to-action link in your IG story.
Before choosing "add your story," update and add a call to action. If you put a clickable link to a photo, it'll appear on the screen before the following article appears. You should therefore remind your viewers to swipe upwards to access the link. How?
Even if a "see more" link will show at the end of your article, you must still direct readers to click it.
Some examples of these phrases include "swipe up to shop," "swipe up for more," and "see more here!" You may even doodle arrows pointing to the location where the user must swipe up.
Once this is done, you're all set! It's now time to flesh out your story a bit further.
How to add a link to your story if you have fewer than 10,000 followers:
This function was initially only available to people with over one million followers. Aside from that, we're confident that you're on your way to the magical 10,000!
In the meanwhile, though, there are several methods to use IG stories to lead your followers elsewhere.
First, you may add your own and other users' feed posts to your tales by tapping the airplane icon to the right of your photo and selecting 'add post to stories'. Followers can follow the link in your articles to see the source post for more information. The same goes for videos, including IGTVs.
Instagram stories ads can also use swipe-ups. You can include a link and swipe-up CTA for a few dollars. Some games cost money.
Customizing the design of your Instagram link sticker:
If you feel that the Instagram link sticker doesn't match the look of your brand, you'll be pleased to learn that it can be modified in a few simple steps.
Here's how to modify your IG Story sticker link: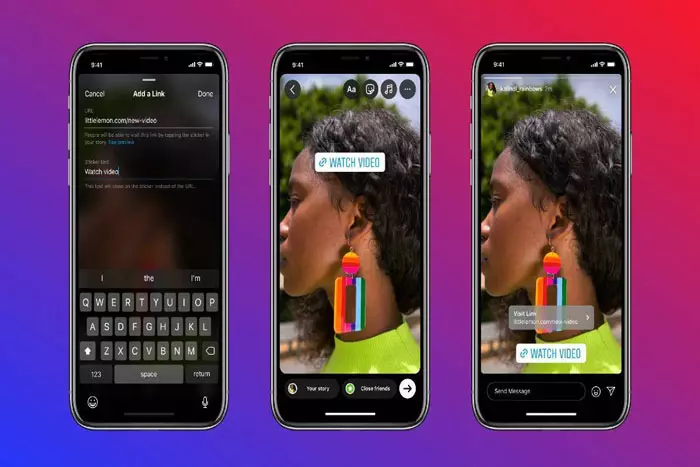 Make your Instagram Story as usual, but this time add a link sticker.
Launch the design program of your choosing
Export it to your mobile device as a transparent PNG file.
Return to your IG Story draft and add your unique sticker from the photo album or files on your mobile device.
Place the custom label exactly over the link label
Voila! You'll have visible control over your IG Story, and users can tap it.
Remember to monitor your Story's stats to optimize your click-through rate. If you're not getting enough Instagram taps, have a clear call to action, and don't provide too much information.
To conclude Linking Instagram Stories:
This IG Stories Link function was eagerly anticipated by many marketers who have been searching for more IG traffic-driving strategies. Marketers with access to this capability will undoubtedly improve website traffic if they use it effectively.
Are you prepared to take your Instagram Stories somewhere unique?