Instagram stories are something liked by the digital community the most. People share their joy, their sadness, news, information, and much more using Instagram stories. These stories disappear after 24 hours, so in a time span of just one day, they provide a gate of knowledge and entertainment. When you are posting something, you are the master of your stuff. You must choose who is allowed to see your stuff and who is not.
Usually, due to the openness of the Instagram platform, people think that it is not possible to hide your stories from the contact you want and thus make it private, altogether. But that is possible. Before you make any assumption about the policies and feature Instagram has integrated into itself, you must first take a look yo all the setting it provides you, in order to get your profile amended according to your desire. You must not underestimate that.
The followers you have on your Instagram, are a random bunch of community. You may know most of them, but sometimes you have anonymous admirers too. The only portal between you and them is the click that allows them to follow you. So if you are posting something, you only want someone you know to view, or your story's content is relevant to only a few people, you can make your Instagram stories private to get that done. You can have two tactics in your hand to get your desired cause fulfilled.
Create your Close friends' list: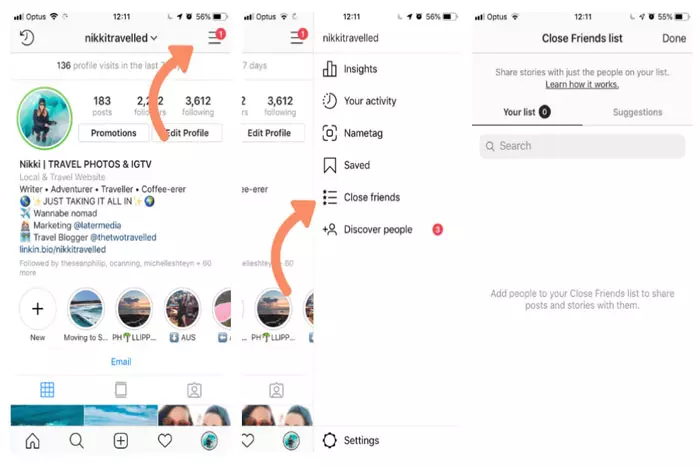 Instagram, unlike the other social giant, has something different to offer. Here you will find an exception, the "Close Friends List". When you create your close friend list, that means you are adding the people, you want to see your story, to a list.
For that, go to the main setting of your profile and go straight to "Privacy Settings".
You will find the enormous option under it, but overlook the others and select a story.
Navigate the "Close Friends" option and start adding the desired people to this list.
After you create the list, everything else goes smoothly. Whenever you will upload a new story, you will be given two options, whether to add it to "Your Story", or to show it to your "Close Friends" only. This is how you can make your story a bit more private.
Keep your story hidden from some of the accounts:
If the "Close Friends" list has utterly failed to serve your cause, no worries. You can also make your story private via another tactic. You can hide it from the contacts you don't want to snoop around your profile.
Isn't it amazing? In order to hide your story from a few specific accounts, you can:
Go to the main settings of your account and let it lead you to the privacy settings.
Once you have reached there, navigate the story option as you did in the above-mentioned method.
Try to find the option "Hide You Story from". The rest will go in the same flow.
Add the people you don't want your story to get visible to, and once you are done adding, confirm your action.
Now whenever you upload your story, whether you tap the close friend option or not, your story will be private, and will only be shown to the people you have selected. Those who have got into the privacy list will not be able to see your story, no matter what tactic they use. So by using either of the mentioned ways, you can make your story private and let it be shown to only the people of your choice.