Uploading stuff you love on Instagram is fun. You can choose to form the enormous features Instagram provides you and thus can make your stories and posts as appealing as you want. Being always user-friendly, Instagram ensures its users are always provided with the best features.
People upload photos, text, videos, audio, and many other things using the best Instagram feature. In this way, along with many different options, modern people of modern times are more interested in short interval videos.
GIF is one of them always widely acceptable, and people love to portray their bits in GIF format. Instagram, as for stories, allows you to upload the GIF directly, but there will not be any option to upload GIFs on your Instagram posts.
But the game does not over here. If you have been looking for the ways you can adopt to upload GIFs on Instagram, you have hit the right spot, so read on to figure it out.
How to Upload a Gif on Instagram:
If you are a daily user of Instagram, you know that you can easily upload a GIF on your Instagram story. All you have to do is access the features option on your story interface and select the appropriate GIF from your story. But when it comes to uploading GIFs on your posts, you may not be able to find the direct options to do so.
If that case prevails, you must relax and consider the below-mentioned techniques to upload a GIF on Instagram.
Using the Giphy app:
Mostly strong recommendations are made about the Giphy app when uploading GIFs on Instagram. Though there are few indirect ways to upload GIFs on Instagram, they would be s time taking and are not used by people since the emergence of the Giphy app.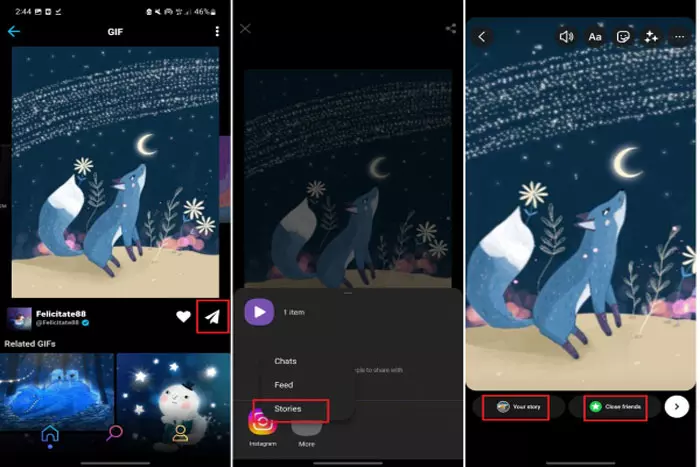 Hence the platform Giphy allows you to upload your GIFs conveniently on Instagram.
Here is how it goes:
Make sure you already have the Giphy app downloaded on whatever gadget you use. Afterward, you can utilize its features.
Once downloaded, open the Giphy app and select the GIF you want to see on your Instagram. After you have made the selection go in the following mentioned way.
Tap on the icon of an arrow presents just below the GIF you have selected.
Once pressed, it will allow you to access the social app you have on your gadget at the present moment.
Try to navigate Instagram from there; you can scroll down the app list and click on the Instagram icon. After that, you will directly be led to your Instagram profile, and then you will be given two options:
Upload the GIF on your Instagram story
Upload the GIF in your Instagram post.
Depending on your desired place, you can thus click the options accordingly to upload your GIF on your Instagram.
On Desktop:
If you are fetching a device in which you currently do not have the Giphy app, you must not be worried. You can even use the web browser to access Giphy and thus can upload the GIFs to your Instagram on your desktop too.
Following these steps is all you need to do from now on:
Go on the browser you use for your work and search the official website of Giphy.
Once reached, you will access all the GIFs on the platform.
Choose which ones you want to see on your Instagram, and then navigate the share option beside the GIFs you have selected.
Once found, tap the share button, and thus you will be provided with the options of different platforms where you may want to share the GIF.
Select Instagram, make sure you want to upload it on a post or the story, and then tap the respective button. Your GIF will soon be uploaded to your Instagram.