No one is unaware of the fantastic features of Instagram. It came after Facebook but kept a separate worth in contrast to it. With time, This most-loved app has made many amendments to make it the most loved, easy-to-use, irreplaceable, and premium app for its users. You can say Instagram knows how to keep its users engaged and attracted to it. That's why you will see almost all the showbiz stars, familiar people, and businesses on Instagram. Being on Instagram is equally important as being on other social apps like youtube and Facebook for your business or page. Almost all Instagram features are awful and sophisticated, but Today we are discussing anonymous questions or queries on Instagram features.
This feature has made social interaction easy and confident for Today's community. Like Facebook, people also had identity-revealing issues on Instagram. But this Insa feature has diverted all the worries. However, before telling you how to post anonymously on Instagram, you must know what Instagram's anonymous feature is. So let's begin with that point.
( Important Note: If you want to know how to post anonymously on Facebook, click the link down below)
What is the anonymous question property on IG?
As it clears with the name anonymous questions or queries on Instagram feature means, you and other users can share their opinions, preference, and expectations without showing their names. It aims to boost people's confidence. So they don't feel hesitant, shy, and afraid to share their unfiltered opinions about their friends, family, or other social media personalities.
This feature benefits not just people but also you because you can bring revenue to your business or work with honest opinions, which people may hide from you because of your close relationship or any other reason. For example, if you repeat the same mistake in making any reel, your friend wants to tell you about that, but she may not do it thinking you may hurt or feel bad. But anonymously, she will freely share her unfiltered opinion with you. Example 2, you may want to share your opinion on any social issue but not say because to avoid hate, but with the anonymous feature, you can speak freely about that.
Few recommendations for doing anonymous questioning on Instagram:
Do you also want to do anonymous questioning on Instagram? But need to know how? Don't worry! We have shared these most straightforward tips with you. After looking through these, you may be accomplished to ask questions anonymously. Still, if you are confused, please ask in the comment section or email us at john @ likesgeek.com. We will contact you back within 24 hours as soon as possible. So let's master how to do anonymous questions or queries on Instagram in these simplest recommendations.
1. Use Instagram anonymous story sticker:
Do you know the Instagram anonymous story sticker? It allows people to respond anonymously to the Story. When you upload the sticker on Story, the users reply, but you can't see the person's name who has answered you on your Story.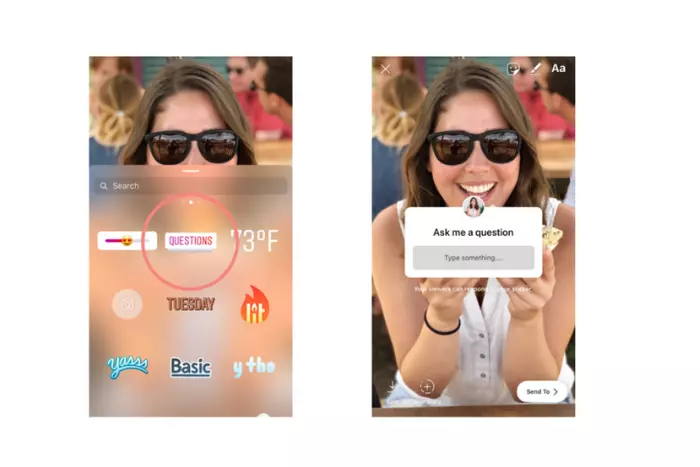 But remember that hate comments and opinions about you may disturb you mentally. Therefore, keep that strength to feel not depressed and upset after getting hate comments from the public. But it would be a great suggestion, to begin with, your belongings or friend circle. To activate that feature, find "close friends." icon in the bottom left corner. Then choose the friends with whom you want to share your anonymous Story.
2. Active hide your identity feature:
It is highly suggested to ensure that you have turned on the hide your identity feature. Thus, it ensures that your identity remains hidden when you ask questions or keep your information private. Let's do it with these most manageable steps.
At first, Sing into your Instagram account with Facebook or a strong password.
After signing in, go to the three horizontal icons at the top side corner of your Instagram home screen.
You will see settings and privacy first in the row. Tap on it.
Then you have to go to the to hide your identity icon. Toggle on it.
Now, you are ready to participate in questioning and answering without revealing your identity.
3. Create a duplicate Instagram account:
Do you want to run all over your Instagram page without revealing your identity? Then it's good to make an anonymous account to ask questions without showing your real identity. Firstly, create a separate email account with a different profile picture, bio, and username so people can't detect it. Now you have freedom of speech.
4. Download the NGL app for the active anonymous questions or queries on Instagram:
It is crucial to know your simple Instagram has no anonymous questions or queries on Instagram feature. It only activates in your Instagram account when downloading the NGL app separately. This app is available on your mobile play or apple store. To download the NGL app go to the play store and then write the NGL app on the search bar. After that, click on download, and the app will begin downloading.
Conclusion:
Try to respond positively to hate and hurtful comments. It will show you are strong and optimistic before the community. Also, if these opinions are about your business, try to adopt the advice to improve your content for the future because the correct opinion matters a lot for the progress of your content, page, or business. So we are winding up here hoping that it helped you a lot. However, if you want to know about other Instagram features and social media apps, visit our website, www.LikesGeek.com. Have a wonderful day! Thank you.