Over the past few years, the popularity of streaming sites such as Twitch has skyrocketed, and a new breed of content makers has emerged to get in on the action.
With the surge in popularity, it is now easier than ever to set up and broadcast a live stream. There are numerous programs designed to streamline the procedure. Before many of these services can go live, there are a few essential steps that users must take. Finding your stream key is one of the most crucial needs.
This post explains how to find your Twitch Stream key and if it should be shared.
Twitch Stream Key:
Stream keys connect streaming software to your broadcast's output channel. Copy/paste your Twitch stream key into OBS to begin streaming.
On Twitch, the stream key format is the most prevalent. Despite recent modifications to the procedure, obtaining your personal stream key is straightforward and takes only a few minutes.
Finding Your Twitch Stream Key: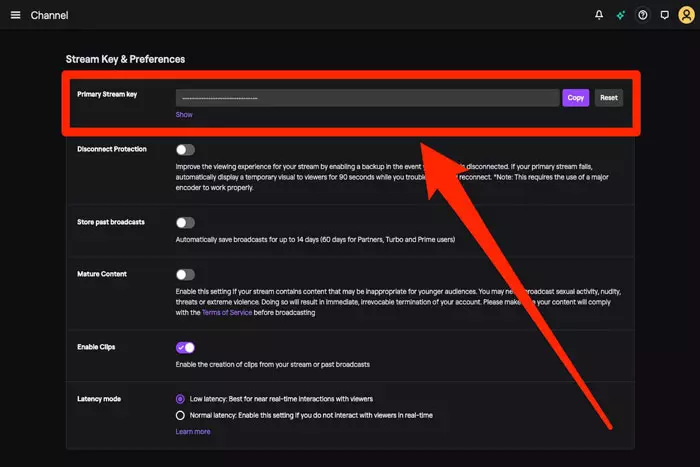 Open a Mac/PC browser and go to the Twitch homepage. Log in if needed.
Select Creator Dashboard from the drop-down menu after clicking the profile symbol in the upper-right corner.
Choose "Stream" from Settings on your Creator Dashboard.
Under "Stream Key & Preferences," locate the Primary Stream key option and click the Copy button to the right.
When you're ready to begin streaming, you can supply this stream key to the streaming program of your choice.
How to handle a hacked Twitch stream key:
If someone acquires your Twitch stream key, they may stream unauthorized content. If they have full account access, you may notice:
hanges to your business and personal info.
chat activity that you did not initiate.
The person may have changed your login information, preventing access to your account.
If you suspect unwanted access to your Twitch account:
you should immediately reset the password.
Then you must activate two-factor authentication.
If others already possess your stream key, you can prevent them from using it by resetting it.
1. open your preferred web browser. Then, log in to Twitch.
2. Select Creator Dashboard from the drop-down menu after clicking the profile symbol in the upper-right corner.
3. On your Creator Dashboard, pick Stream from the Settings menu.
4. Locate the Primary Stream key option under "Stream Key & Preferences" and click Reset on the right.
Should you disclose your Twitch key?
You should never copy your Twitch stream key and be careful not to leak it during live streaming. You don't want someone streaming content that gets your account demonetized, suspended, or loses subscribers.
How to make your Twitch channel available to others for live streaming:
Permitting individuals to stream on your Twitch channel is a more secure method of allowing them to do so.
Open Twitch in your browser. Then, log in if needed.
Select Creator Dashboard from the drop-down menu after clicking the profile symbol in the upper-right corner.
Choose "Stream" from your Creator Dashboard's Settings menu.
Click "People who can stream to your channel" under the "Permissions" heading.
Enter the email address of the person to whom you wish to grant permission, and then click Send Invite.
A quick tip! Only grant permission to people you know and trust, who adhere to Twitch's terms of service and have never been banned from the live streaming service.
A "Squad Stream" can be set up to allow other individuals to join your Twitch stream.
Can You Locate Your Mobile Twitch Stream Key?
To locate the stream key on a mobile device, you must utilize the browser and Twitch as you would on a desktop. Currently, there is no way to locate your stream key via the Twitch mobile app. While it is possible to begin streaming immediately from your phone, as you would with the Twitch app, there is presently no way to locate the key in your settings.
Conclusion:
After finding your Twitch stream key on your dashboard, you can start making high-quality videos. Whether you're streaming your favorite PC game or simply chatting with your audience via webcam, you must persevere in your pursuit of an audience.