It is deniable if a person says he does not know about TikTok, the short-time trending app in the world. From 2018 to 2021, this incredible app reached almost 1.2 billion active users within a month. It is equally popular among all age groups, especially teenagers around 13 to 25. But it's just an estimate. You will see all age groups using Tik Tok and getting publicity and new opportunities to work with the brands. If you are running any business, this platform can be a pushing factor to bring your brand publicity to the peak because it is also called a social community hub.
But you know every pro has some cons that should be balanced; otherwise, they can be a problem. The motive behind saying that the universities are banning TikTok worldwide across the nation. It gradually means university students can use other social media applications like Facebook, Tumblr, etc. but can't use Tiktik from operated wifi or other devices. Almost the maximum number of universities are taking the initiative to ban TikTok. And the top Universities of the world, like Texas State University, Lamar University, University of Houston, University of Oklahoma, etc., are on top.
But here the issue arises: why are universities prohibiting Tiktok? If it's bothering you, get the answer from this article from likesGeek.
Why are universities banning TikTok?
As you know, TikTok is owned by the Chinese-based company Byte Dance. At the time the U.S. security state raised an issue that they were in doubt that their student's data was not secure on TikTok. They even said this china based company might be sharing their extensive data with their government. Even FBI Director Christopher showed his concerns that this issue should be taken seriously. He also claimed that the Chinese government could utilise millions of users' data for control. However, if we talk about the past, the U.S.-based executives denied that Beijing is regulating the TikTok app. Also, the Chinese communist party did not directly know they had control of ByteDance or TikTok. They even direct that they are a private company owned by global institutional investors. It has thousands of American employees, and its founders primarily own it.
U.S. skeptics have said that China's broad security laws should do verification and asked the Chinese government to order ByteDance to share data with them. Further,
The seniority of states has steadily accumulated their efforts to limit access to the app, and many widespread universities, which fall under the purview of state laws, obey the suit. You can estimate that Texas A&M, which is one of the largest and high-ranked universities in the globe, has banned Tiktok.
Moreover, the destructive impact of using TikTok has been rising day by day from the studies board and parents. Therefore, universities prefer to ban tik tok for kids' futures.
What are students' reactions to that issue?
If we discuss the student's reaction to banning Tiktok, they are not happy with that. But 60 to 70 percent of parents and professors support that decision because they want their kids to focus on their academic grades instead of wasting their time on TikTik.
Recently we conducted a small conference between parents and Austin's university students, which helped us understand people's concerns. Here we are sharing a few people's reviews on that topic.
Georgia, the mother of her 21 years son at Austin University, said that,
I am happy that Tiktok has finally been banned in our state because my son wasted all his time making Tik Tok. Despite living in the same home, my husband and I began to miss him. We were okay with that because we are not strict parents and believe in personal freedom, but that problem arises when we know that our son is not mentally well because of a lack of followers and getting hate on TikTok. Now Tik Tok has been banned so that he will focus on his studies.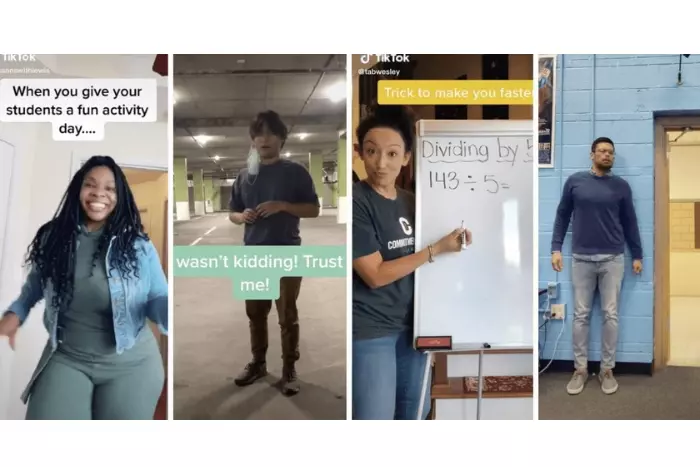 Even parents are right on their side. But only some students rely on Tiktok earnings for their studies or hostel fees. Also, some students want to start their careers as models, tv show hosts or singers, etc. that platform can build their good portfolio and boost their career quickly, especially when they don't belong to a strong background.
One of the Husten students ( hidden identity) said,
I had a skincare tips page on Tiktok for two years. I have worked thoroughly to build that up. With that help, I worked with skincare brands. I used to advertise their brand on my TikTok account. In return, they were paying me well. With that earring, I was paying for my studies and living, but I don't know what I should do now due to that issue. At least they should let me recover my data.
Besides that, Paxton Life Sciences and Biotechnology showed a different point of view. He said,
"II haven't got the faintest idea! why do people think social media apps should be banned? Hey, come on, dude! We live in the twenty-first century, where we rely on technology. Everything has side effects if it is used out of the limit, so besides banning such powerful apps which are helping us to earn and be famous and stand out, teach us how to control our obsessive behavior towards them."
We hope these reviews and informative statements have helped you understand why universities have banned Tiktok. However, visit our webpage if you want more information about TikTok or other social apps like Tumblr or Instagram. www.LikesGeek.com. Also, share your feedback with us via email at [email protected] or comment. ! Have blissful days.