Instagram models are ubiquitous, and it seems the number of significant fashion icons is rising. Most people don't know the significance of their Instagram followers. How much do IG models make?
Entrepreneur and global figure Kylie Jenner earns $1 million on average for each sponsored Instagram post. According to Instagram's 2018 Rich List, she is the most lucrative online influencer. Celebrities such as Cristiano Ronaldo ($750,000/post) and Selena Gomez ($800,000/post) follow Kylie.
Not surprisingly, the influencer market is valued at approximately $2.38 billion.
It's not just A-list celebs who make a fortune as Instagram models. Even "micro" influencers can become wealthy if they have enough followers.
Here's a guide to Instagram model earnings that can also assist you in estimating your personal earning potential.
Who Is a Model on Instagram?
An Instagram model is essentially a woman or man who uses Instagram as a modeling scene. This method of modeling provides a significant flexibility. You are not required to look for modeling agencies or employ any intermediaries. You are self-employed, and if you work diligently enough to create a respectable following, firms will want to collaborate with you.
Today, brands are continuously on the search for fresh and amazing features and personalities. They also regularly look for these people online.
Brands and businesses are particularly interested in the social effect Instagram models wield. This social impact can simply be transformed into credibility, consumer flow, and greater profit. And successful models can anticipate lucrative contracts and a substantial income. A win-win for all parties.
How do Instagram Models Earn Their Living?
In a nutshell: sponsorships! Sponsorship involves companies and brands paying you to advertise their products. It may be a one-time collaboration or an ongoing one. However, the fundamentals remain the same: a brand becomes interested in your specific audience, offers you a deal, and pays for your sponsored content.
Several options exist for making this work:
Partnerships with brands that may have an interest in your specific audience. For instance, if your account focuses on fitness and healthy living, a firm may employ you to promote their health goods.
Relationship marketing! You advertise a product and earn a percentage of its sales as an affiliate.
Developing your brand and selling your goods or services.
Promoting the licensing of your media content.
It's worth noting that if you only plan to upload selfies and wait passively for brands to notice you without taking any action, you may never receive that sponsorship. Start doing!
A large number of Instagram profiles are owned by companies looking to find new models. Occasionally, they conduct campaigns and contests to select a representative. Follow these accounts, leave comments on their posts, and enter their competitions. You'll likely be noticed and hired.
How Much Do Instagram Models Make?
If you are curious about "how much do Instagram models make," you should first familiarize yourself with the various sorts of Instagram models before learning their approximated wages.
Celebrities
Kylie Jenner and Kim Kardashian and Kylie Jenner are among the highest-paid IG models since they've already established their own social media businesses and have gained a lot of attention.
Style bloggers
Accounts with over 100,000 followers begin charging brands a minimum of $1,000 for each post.
Influencers
Influencers are well-known in their specialty because they create useful material. They promote sponsored posts and monetize Instagram using their social influence. The amount of money they make depends on how many people are following them on social media.
Micro-influencers (<10,000 followers)
Instagram micro-influencers can earn $25-$88 per post.
Macro influencers (>100,000 followers)
Instagram models with over 100k followers receive $10 per post for every 1k followers. Accounts with over 500,000 followers earn approximately $600-$700 for each post.
Effective Factors Influencing Instagram Model Pay:
Although we estimate how much IG models and influencers earn, several variables determine the price of each paid ad and the model's final remuneration.
Consider the following:
Instagram followers count
Niche and authority of influencers in a particular industry
Relevance
Account's engagement rate
Influencer's location
Instagram's Highest-Paid Models: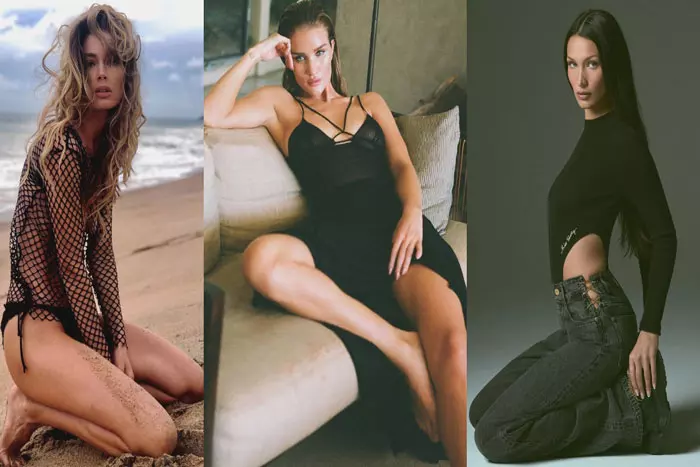 Here are the highest-paid Instagram models and celebs you can work with to reach millions.
Cristiano
Cristiano Ronaldo, a Portuguese footballer, and an IG model have 415 million Instagram followers. Forbes labeled him the world's highest-paid athlete in 2021, and he earns $1,600,000 for every sponsored Instagram post.
The Rock
Dwayne Douglas Johnson, aka The Rock, is one of the highest-paid and most successful performers in Hollywood. His Instagram account is followed by 305 million people. In 2020, he had the biggest income potential of any Instagram celebrity, but in 2021 and 2022, he fell to second place. Each sponsored article costs approximately $1,530,000.
Ariana Grande
One of the most well-known IG models on the list is Ariana Grande-Butera. She is the third highest-paid celebrity in the world. For every sponsored article she does, she receives $1,510,000 in compensation.
Kylie Jenner
As of right now, Instagram's most-followed lady is none other than Kylie Jenner. In the renowned Kardashian-Jenner family, she is the smallest member. In 2020, she was the highest-paid celebrity according to Forbes. She charges over $1,000,000 per sponsored post. With 320 million followers, she earns approximately $1,495,000 every post and is the fourth highest-paid Instagram personality.
Selena Gomez
Selena Gomez is Instagram's fifth-highest-paid star. She has 305 million Instagram followers. She receives around $1,470,00 for every sponsored Instagram post.
Who can be an Instagram model? Anyone. However, anyone who hopes to create a career on Instagram must be willing to put in significant effort. Thousands of followers do not spontaneously appear. They come for the quality of the content and remain for the personality.
Even if you now have a little following, do not give up. Continue doing what you enjoy. Things can change rapidly!