As we all know, video is the king of engagement, particularly on a site like Facebook, which receives an average of 8 billion views every day. Therefore, if you truly desire a piece of film for brand recognition, videos are the ideal option, especially to circumvent Facebook's pay-to-play approach.
In the past, professional video editing programs were required to combine video segments, images, and music. Now, even Facebook can assist you in creating a video.
Want to create a Facebook video? In this post, we'll explore how to make an attention-grabbing photo video on Facebook. This post provides thorough instructions on how to create a Facebook video, as well as recommendations for enhancing its quality. Follow our lead to begin.
Let's jump right into the details.
How to Create a Facebook Picture Video (Slideshow):
Are you having difficulty reaching your audience and have no other option but images?
Then continue reading this part to discover how to create a video with photos on Facebook:
First, navigate to your Facebook page.
Video creation on Facebook is a breeze, even without editing experience.
Sign in to your Facebook account on your PC and navigate directly to your page.
Then, via the status update section, click "Photo/Video" and pick "Create a slideshow" to transform your static photographs into a dynamic slideshow.
Select Your Video Settings
When you click the "Create a Slideshow" option, a new settings tab will appear. Before creating a slideshow video, you must now configure several variables, including
video aspect ratio,
picture or slideshow duration,
transitions, and similar elements.
Remember that you can modify these settings before uploading a video.
Add Music to Your Facebook Slideshow:
Don't forget to add music to your slideshow videos, as it gives them life. The benefit of adding royalty-free music to your Facebook slideshow videos is that you have the freedom to do so. Moreover, there are other genres, such as energizing, inspirational, reliable, entertaining, and contemporary, that meet the needs of everyone.
Upload Your Images:
Now, this is the most significant step when generating Facebook slideshow videos. Bear in mind that you're only authorized to upload a maximum of ten photos at a time. Simply click the 'ADD' button and upload pictures from your timeline, desktop, or webcam.
Preview Your Facebook Slideshow:
If you have uploaded all of your photographs with the correct sequence, soundtrack, and video settings, you should now preview your video before posting. Remember that at this stage, you are permitted to adjust the audio and visual settings if necessary. Spend time as long as possible to produce the greatest slideshow video possible.
Publish your Slideshow Video: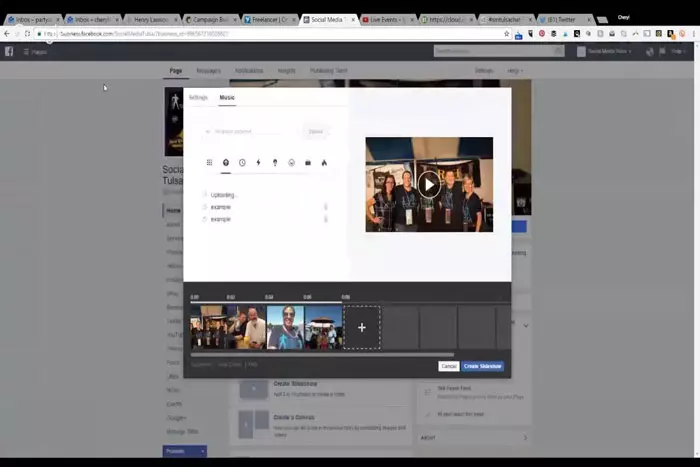 After making, editing, and reviewing your video, now is the time to share it and attract everyone's attention.
Excellent Concepts for Your Facebook Picture Videos:
If you're new to this field and have no idea how to put your photos into a film, continue reading this part where we'll explore some amazing ideas for your Facebook photo movies.
Create Product Demo & Instructional Videos:
This is one of the most popular domains with the largest number of active users and longest retention times. This brilliant idea allows you to educate or instruct your audience entertainingly and engagingly. You may easily instruct step-by-step cooking instructions, demonstrate how-to guides, product features, and more.
Relate a Tale:
Creating a visual tale from your images increases engagement and retention, allowing you to take your audience on a visual journey. You are your photo slides to create awe-inspiring life stories, motivating stories, and much more. Thus, you can maintain a connection with your audience, which will ultimately yield the most return on investment for your product or Facebook page engagement.
Developing a Collection:
With this brilliant idea, you can easily create your product collection, fashion trends, year-end recap, and favorite memories. In this manner, you may easily create your collection and present it to your audience.
New Product Preview:
Would you wish to generate tension that leaves your audience with eagerness? Then creating a teaser video is the ideal solution. You can produce product teasers, your life-changing moment teasers, and behind-the-scenes videos, among many other comparable things.
This concludes how to create a video on Facebook. With the extensive instructions and introductions provided above, creating a Facebook video is not difficult at all.