Social media and professionals make a very good combo. Instagram is no different. Professionals all over the world, when start marketing, business, or any other technical activity of their own, want it to get recognized. On one hand, they work virtually on it, and on the other they promote it on social media. In this way the channels to diversify the proliferation increase spontaneously.
Instagram, again with a bundle of useful tools, has not been left behind in that regard. It allows two types of accounts, personal and business. Personal accounts are the normal ones with the features necessary for daily use only. They are designed to fulfill daily enjoyment. But when it comes to a professional account, they get a bit different.
Professional accounts have a bit different set of tools that enable the users to expand the realm of their business precisely. It is professional itself. The tools and tags are specially designed to be handled only by professionals. There have been an extended working procedure for that.
Instagram allows its users to create a business account, like all other platforms, but what's special about it is that it also allows the users to extend their personal accounts to professional ones. Isn't it amazing?
Business to personal Instagram account: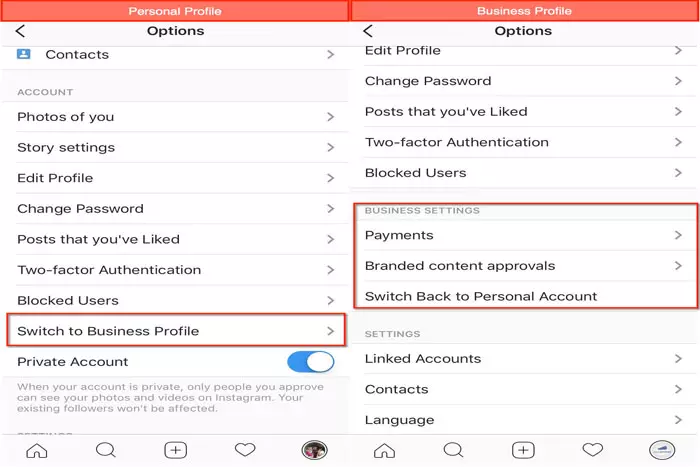 If for a special purpose, you had created your Instagram business account, and now you want to switch back to the normal one, you can easily do that.
All that needs to get done is that you should follow the below-mentioned blueprints:
Step 1: Go to your Instagram, either on mobile, IOS, or iPhone. The procedure would go in a similar flow at each.
Step 2: Open your profile. You will find it when you tap on your profile picture displayed at the bottom-right of the main interface.
Step 3: Move to the three bars at the top and tap the main settings of your account. Wait for the server to get you redirected there.
Step 4: Once the setting is open, avoid the generalized and go to the account option. Here you will find all the essentials related to your account mainly.
Step 5: Scroll it down and navigate the "Switch Accounts" option. Once you have found it, click it.
Step 6: When you are already having a business account, the only active option for you to use is to switch it to a professional one.
Step 7: Click "switch to personal account", and let the remaining happen. You have now successfully switched off your business account.
Alternative way:
If you are not willing to keep a personal account, and you just want to switch off your business account altogether, the only option left for you is to deactivate your account. There is no other way.
If that's what you want, you can also do it by following the blueprints mentioned below: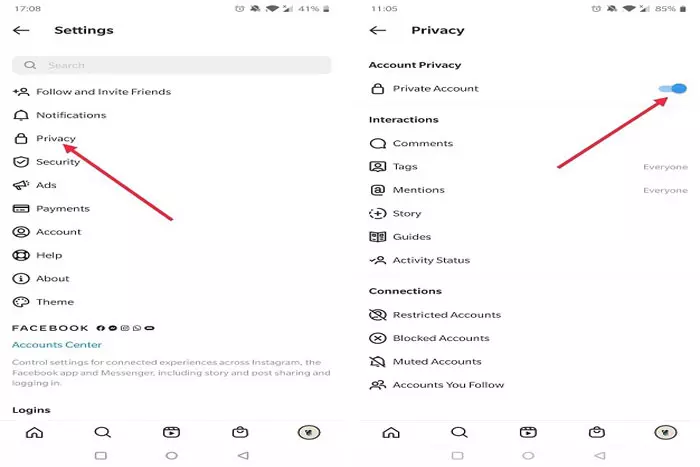 Step 1:
Go to Instagram and get into your ID there.
Step 2:
If you have set a profile picture, click on it to access your profile. It can be reached out from the bottom bar. Tap to get in there.
Step 3:
Once you have gone there, you have to go to the main setting of your business account as you did earlier.
Step 4:
Go to the account setting, where you have earlier been suggested to switch your account. You can simply overlook the option and scroll even further deep if you do not desire to switch accounts.
Step 5:
You will find two options, "log out" and "delete my account". Simply click "delete my account" and confirm. This completes the process of turning your business account off.
If you remain unable to delete your account through an Instagram mobile app, you can also get it done by the web version. Further, if that does not work, you can also visit "Instagram Help Center", and can request an account deletion from there. This is how you would easily be able to deactivate your account.