Facebook's comment system is crucial to the platform, for better or for worse. Here's how to limit or restrict Facebook comments on your posts.
Virtually everyone enjoys receiving comments on their Facebook postings. However, the comments section could be taken over by trolls posting nasty comments or by spammers posting unsolicited advertisements. In such a scenario, you must retake control of your station.
Let's look at how you can turn off and manage the comments on your Facebook post when you need to.
HOW TO DISABLE FACEBOOK COMMENTS?
Facebook restricts your power over your posts. Therefore, you cannot completely deactivate comments on Facebook posts. However, you can control who can leave comments on your posts.
However, if you are the group administrator, you can disable comments entirely.
HOW TO MANAGE REPLYING TO YOUR PERSONAL FACEBOOK POSTS?
You can manage profile post comments using the Facebook app or website. This article will demonstrate how to utilize both variants.
Here's how to manage comments on your Facebook posts using the mobile application:
Identify the Facebook post on which you wish to prohibit comments.
Choose a deeper level of customization by clicking the ellipses (…) in the post's upper right corner.
From the drop-down menu, choose Who can see and comment on this post?
On the following page, choose one of the three available alternatives. Your expected default option should be "Public." Therefore, you can select either Friends or Profiles and Pages as applicable. To confirm your decision, tap Done.
HOW TO MANAGE FACEBOOK WEB COMMENTS?
On Facebook's web version, the procedure is rather complicated. Here's how to handle Facebook comments for personal posts from a computer.
Utilizing your web browser, sign in to your Facebook account.
Click on the triangle with its side inverted.
From the main menu, choose Settings and Privacy > Settings
Select Public Posts from the navigation bar.
Choose who will see your comments by clicking Public Post Comments or the section next to it and selecting either Public, Friends of Friends, or Friends.
And that's it; your Facebook post's comment section is now under control.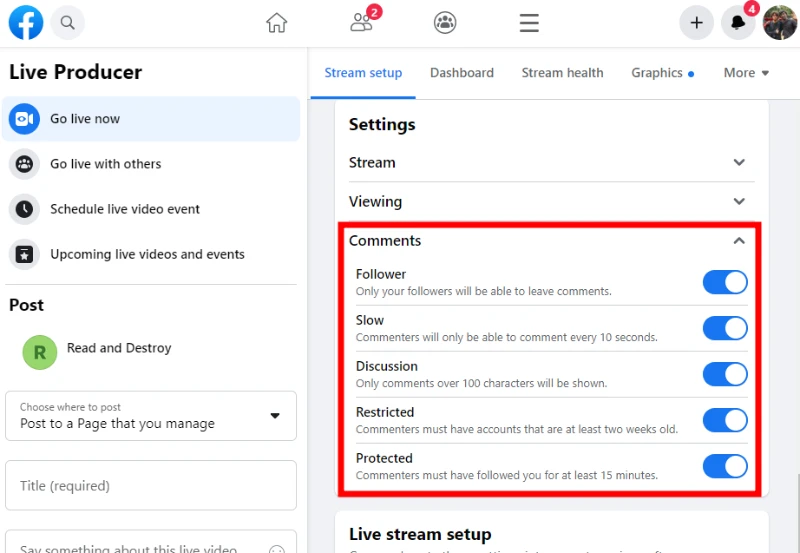 HOW TO DISABLE THE ABILITY TO POST COMMENTS IN A FACEBOOK GROUP?
Unlike regular Facebook posts, group administrators can turn off the comment section of a post in their group. Follow these steps to achieve this:
Identify the post for which you wish to disable comments.
To expand this post, use the ellipses (…) in its upper-right corner.
Select "disable" comments.
Using the web-based version, the same steps apply. Simply keep an eye out for the three dots that can be found in the post's upper-right corner.
And that is all. Facebook immediately blocks the post's comment area. Nonetheless, the previous comments remain beneath the post.