Do you feel like people ghost you a lot on Facebook and leave spam messages under your public posts? Locking your Facebook account is the best way to get rid of such problems. Today, we will talk about how to lock and unlock Facebook profile.
Everybody has privacy and no one wants anybody stepping into their private zone. So the best thing would be to lock your Facebook profile. Facebook has had many updates, and each update optimized it better for people.
Almost three years back Facebook launched a new feature that allowed people to lock FB profiles. It turned out to be a beneficial feature. Some people are new to so many new things on Facebook and have no idea how to lock their profile. So let's discuss how to lock account on Facebook in detail:
How to Lock Your Facebook Profile Using Browser?
If you are looking for a way to lock your Facebook account then read ahead to follow the steps:
On your Facebook feed, navigate to your Profile pic and click on it.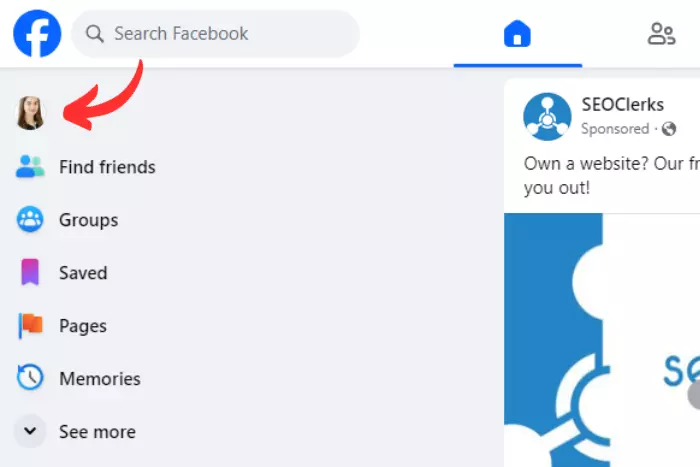 When your profile page opens, click on the three dots horizontally positioned on the right side of the bar above your intro.
Now in the drop-down menu, you need to hit the "Lock Profile" button. Afterward, click on the Lock profile option once again for confirmation. Afterward, your profile should be locked.
How to Lock Your Facebook Profile Using Android/iPhone?
Here are the steps to follow for locking your profile on Facebook using a smartphone:
Tap on the three lines positioned horizontally on your Facebook feed or simply tap on your profile pic button.
Now tap on the three dots in a horizontal position, appearing under your bio and beside your edit profile button.
In the profile settings menu appears, tap on the "Lock profile" button.
Tap the "Lock your profile" option to confirm. Afterward, your profile will be locked.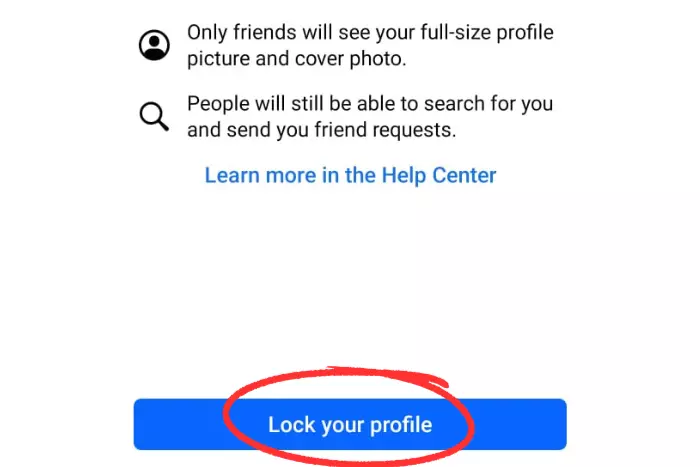 How to Unlock Your Facebook Profile Through Browser?
Here are four quick steps to unlock your profile on Facebook:
Go to your profile page when logged in.
Hit the Three horizontal dots.
Choose "Unlock profile."
Click on the highlighted "Unlock" button. In return, the profile will be successfully unlocked.
How to Unlock Your Facebook Profile Through Mobile Phone?
Let's unlock your Facebook account using your iPhone/Android:
Get to your account page by tapping your profile photo button..
Tap on Three horizontal dots.
Tap on "Unlock profile"
Finally, tap "Unlock" to unlock your Facebook account once again.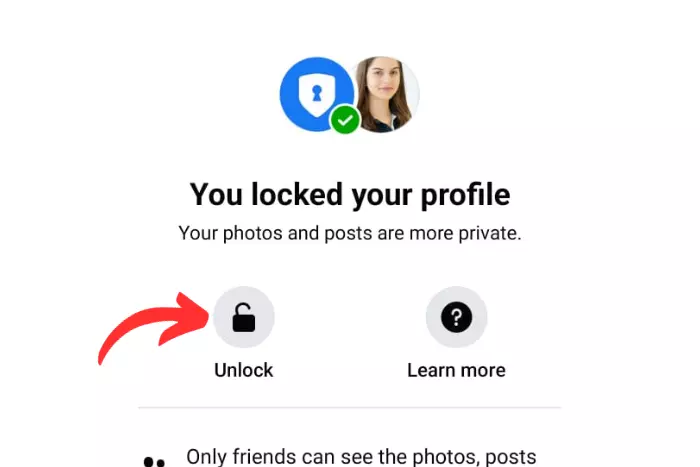 Afterward, confirm your decision by tapping on unlock your profile.
Answers to All Queries Related to Locking/Unlocking Facebook Profile:
What is the Main Reason Locking Your Facebook Profile is Beneficial?
The main reason to lock your Facebook profile is to have ultimate privacy. If you want to only interact with your family and friends on Facebook, you can lock your profile to the public. Afterward, no one can see your Facebook account page.
Also, this super lock feature can help you combat hackers. One must not click on suspicious links and should not accept friend requests from anonymous people. So this is why Facebook released an update with a lock feature to protect their user from getting hacked.
What are the Aftereffects of Locking Your Profile?
In the aftereffects, when you have locked your profile, nobody will be able to either view or send you a friend request on Facebook. Overall, other than your friends, no one will be commenting and viewing your account.
However, strangers can still send you a message and you can view it as well. But you can also block the user or change the settings to have people unable to send messages as well.
Why Facebook Offered Locking Profile Feature?
Many people around the globe, have safety concerns, simply making their posts private doesn't help them stay private. Especially, people with profile pictures on want to have some privacy. So this is why this optional feature came.
Through this feature, nobody will be able to stalk you. And no creep will take a screenshot of your profile picture. It gives you the ultimate privacy. So each time someone visits your profile, they will see a big sign that says: "This profile is locked."
Is This Feature Available to Everybody for Free?
This feature is free, but it is not for everybody around the world. Some countries cannot have access to the locking profile feature. If you see someone's profile locked, that means that in that person's country, the feature is allowed.
What Does a Locked Profile Look Like?
On a locked profile a message is always seen by the users that: "This Profile is Locked." Here is an example image of your locked Facebook profile.
Conclusion
So we have learned how to lock your Facebook profile. As we have discussed this feature allows you to go all private. Moreover, your friends to be specific can only view your account on Facebook.
We found out that one must go to the profile and then click on the three horizontal dots and afterward select "Lock profile" to fully lock it.
It has several benefits, and one of them is protection from hackers. Your data will be secure as long as you have your account set to private with a lock option turned on. Apart from that, we learned to unlock our profile as well.