Are you trying to look through your IG feed when you see the error message "Could not refresh feed?
If you've encountered this problem, you're likely feeling frustrated at the moment. You may have repeatedly deleted and reinstalled Instagram or purged its cache. But none of your attempts to correct the problem were successful. Even more frustrating, Instagram's help is basically non-existent.
If you've used Instagram for some time, you're aware that help is unreachable. However, rest assured that many Instagram users have had this issue before, so you are not alone. Most of these users have heard back, which is great.
This article explains why IG says "Could not refresh feed" and how to repair it.
Why Doesn't Instagram Feed Update? The likely causes:
Instagram feed won't update for these reasons:
Unreliable Internet Connection:
To refresh the feed, your phone or computer must establish an Internet connection. Instagram can't download new photos and videos to your feed. An overcrowded network or a weak signal can create a choppy Internet.
Instagram may not be refreshing on your device since older versions of the Instagram app include several bugs.
Your phone may be experiencing different technical issues, one of which could be preventing Instagram from updating.
Instagram's servers are down.
Instagram's servers may be down, which seldom happens. Check out Instagram's other accounts for down servers. Visit Downdetector to track outages.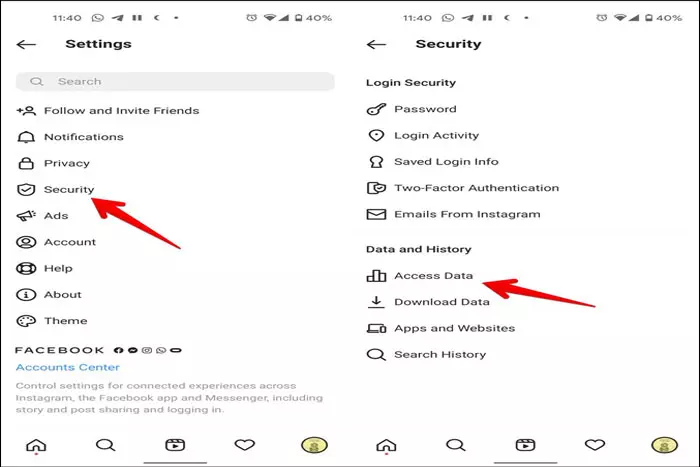 Instagram's cache is full.
If your IG cache is full, your feed may not update. Cache files are temporary files an app keeps on your phone to speed up page loads for a seamless experience.
Instagram may display 'Couldn't refresh feed' if your device's date and time are incorrect. Instagram's backend date and time aren't synchronized with your phone, producing inconsistent data while refreshing the feed.
Instagram monitors user activity and disables accounts for "inauthenticity." This happens when your account is young and you've liked/commented on/followed too many posts/accounts quickly.
Fixing the Instagram feed issue:
Instagram Couldn't refresh its feed? Try these methods:
Check network connectivity:
Check your internet connection's speed before continuing. Use strong WiFi or mobile data signal. Open a web browser and visit any website to test your Internet connection. Internet connection issues cause slow loading times. You may also check your connection's speed at Speedtest.
Automatically adjust time/date:
To refresh your IG feed, you'll need to manually set your phone's date and timings. Make sure the date and time auto-adjust.
Sign out of your account and then sign back in.
Signing out and back into IG may fix the "Couldn't refresh feed" problem. Tap your profile photo, then settings > "Log out." Close the app and then log in again.
Delete Instagram history
In the settings menu of your device, navigate to 'Apps' > 'Instagram' Next, locate and pick the 'Clear Cache' option to remove all Instagram cache files from your smartphone.
After deleting your browser's cache, you will be required to log in again the next time you view Instagram. Ensure you are aware of your IG credentials before emptying the cache.
Restart the phone:
Restarting the device often fixes problems. If you can't refresh your feed, reboot your phone. Holding the power button reboots a smartphone. iPhone power and home buttons must be held for 3 seconds until the Apple logo shows.
Reinstall/update Instagram:
Search for IG in the Play Store or App Store (iPhones). Update the app. Click "Update" to get the latest version. Reinstalling IG on your phone is also an option.
Check for obstructions:
Instagram may mark a new account as suspect if it sees too many actions on the account in a short period (as previously mentioned). Certain account features will also be deactivated for a certain time.
This happens when you utilize third-party bots or services to boost Instagram engagement.
Following these steps will allow you to get around the ban you may have received because of an "Action Blocked" notification. Quick fixes include filling out your profile information and signing in from a new device.
Raise Instagram's data cap:
Instagram has a setting that allows users to set a time restriction on how much data the app can consume. Photos and movies cannot be shared or viewed once data limits have been exceeded.
Instagram's data limitations can, however, be increased within the app. Go to "Profile" > "Settings" > "Account" to see these options. As soon as you've done so, scroll down to 'Mobility Data Usage' and increase the limit.
Contact Instagram technical help
Instagram support may be able to help if your feed isn't updating as it should be. The steps are as follows:
Access "Settings" in the Instagram app, and then select Account, Profile, Edit, Help, and then "Report a Problem."
Enter an error message such as "Could not refresh feed" to help us diagnose the issue.
How can this be reported to Instagram?
If none of the preceding remedies work, submit the problem to Instagram by taking the actions listed below.
Launch Instagram and input your login info.
To go to your profile, go to your Instagram feed and tap on your profile picture in the upper right corner.
Click on the three-line symbol in the top right area.
Tap the setting
Select "Something isn't working" from the help menu.
Write and submit your report
That is all!
It's possible to contact Instagram if the issue persists, as detailed in the following steps:
Go to IG and press the "settings" icon. Then "Report a Problem" >>"Something Isn't Working" and explain the problem.