Did you block someone on Facebook and now want to unblock them? Well, no worries we have this article dedicated to this cause. You will find out how to find blocked people on Facebook in the simplest possible way.
People have many reasons to block people on Facebook, the other person might have cyberbullied them, harassed them, or scammed them. Or it may be someone you broke up with and now you want to unblock them.
Some people also block their family members on Facebook so that they are not able to see their posts or even reach them. Whatever your case is, we'll get you to the answer quicker than most people.
How to Find Blocked People on Facebook Using Browser?
For whatsoever reason you blocked someone and now unable to view blocked people on Facebook, here are the steps to see blocked people:
On your Facebook home page, click on your right profile pic icon button at the top corner.
Move to the "Settings and Privacy."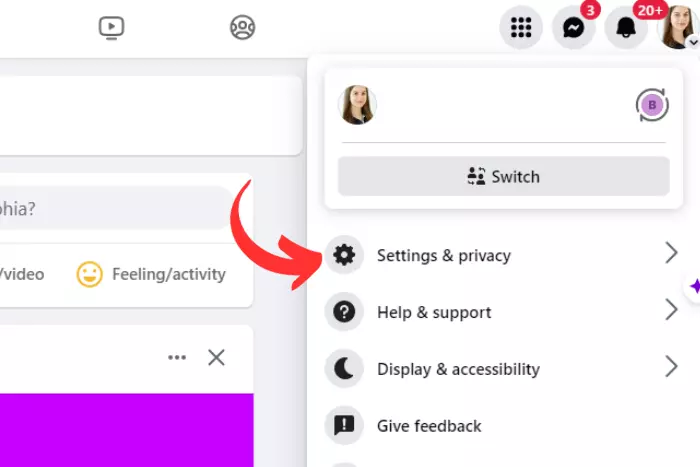 This time Click on the single "Settings" button.
Hit the "Privacy" button in your left sidebar.
Now click the "Blocking" option in the sidebar.
Afterwards, click the Edit button of the "Blocked Users" option.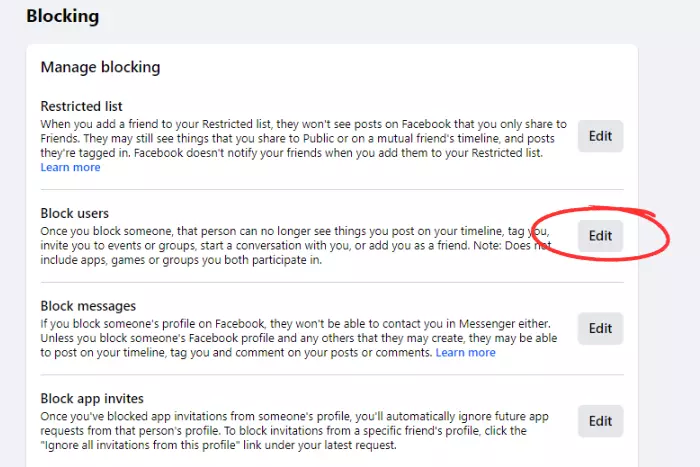 Go to "See your blocked list" to view everyone you blocked so far.
Lastly, click the unblock button next to every blocked person's name to unblock people on Facebook.
How to See Blocked People on Facebook Using Android/iPhone?
Let's get into more detail and find out where to view blocked profiles on Facebook using your Android or iPhone:
Open the Facebook app and hit the three horizontal lines.
Tap the "Settings and privacy" by swiping downward.
Hit the "Settings" option again.
Swipe down to search for the audience and visibility section and hit the "Blocking" button.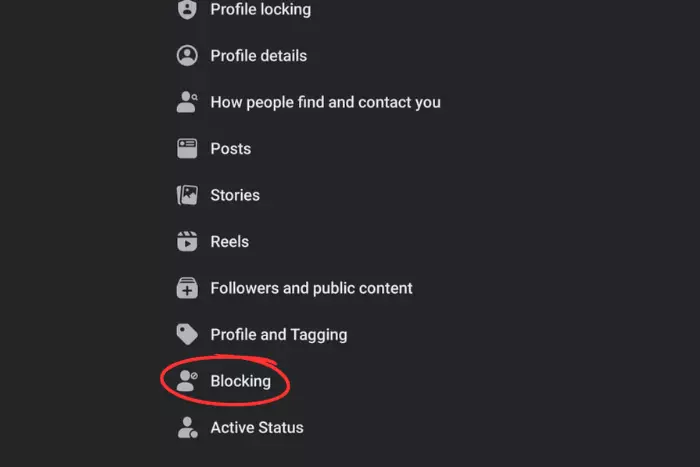 Now list of every blocked person will appear. Finally, hit the "UNBLOCK" option to have a specific person unblocked.
So this is how you find blocked people on Facebook. Btw, if you want to know how to block or unblock someone on LinkedIn, Click here to learn how?
FAQs
How Much Time Does it Require to Block the Recently Unblocked Person?
You must have accidentally or by choice unblocked someone but want to again block them. And now you cannot block them. Well, you are unable to block that person again because Facebook has set a time limit. This means you can only block the same person again after 48 hours have passed.
How to Tell If Someone Has Blocked Me on FB?
One thing I can say with surety is that you would not be able to view or search for the person who blocked you. Especially, if you have ever received a comment notification from that individual, all the notifications will disappear.
The very first thing you will notice is that all the notifications will vanish that you have received from that specific person who blocked you. Apart from that, you won't be able to send a message to them. You may send the message but they won't receive it.
Can Someone Know that I Have Blocked Them?
No, the person you blocked, won't know whether you blocked them or not until or unless they search your name. Or if they do a little research by themselves by searching you from a different account.
Can You Permanently Block Someone on Facebook?
Yes, until or unless you unblock them by choice. Other than that, there is no reason for them to stay blocked temporarily.
What are the Benefits of Blocking People on Facebook?
You must have blocked the person because that person is either bullying you, posting explicit content or messaging you a lot. For whatever reason you block a person, you will literally become invisible to that person afterwards, and that person to you. You won't even be able to receive messages anymore.
The person will be hidden from your site forever until you unblock that person again. You will be nowhere to be found for that person.
Do the Comments of the Blocked Person Also Disappear?
No, the comments will stay there at your post but the account overall will disappear from your site. You won't be able to see the blocked user's posts but you will be able to see older comments on your previous posts.
Summary
In this guide, we have taught you how to find blocked people on Facebook. We mentioned all the steps from going to your profile, settings, and privacy, and then settings again, and afterwards privacy and Blocked option. This will get you to see the full list of blocked users.
We have also talked about how it can be a beneficial feature. And how to tell if someone has blocked you or if they know that you have blocked them. I hope it benefited you. Thanks for reading!