No doubt it's a fact of this modern Era that your business can only fly out of the shell if it is active on social media platforms like Facebook, Twitter, Tumblr, YouTube, etc. Therefore, your account must be on previous and upcoming social media sites to spread swiftly, especially Anonymously on Facebook, the most popular social media platform.
People are getting benefits from that platform swiftly to promote their business. It can be estimated through the 2022 surveys, which claims that Facebook has almost 60 million business pages, and 93% of them are active. But unfortunately, many businesses are still inactive on Facebook pages due to privacy concerns. The main reason for not promoting their content is their privacy because they don't want to reveal their identity. They must be aware of Facebook's new anonymous post feature, which allows them to post in Facebook groups without revealing their identity.
In this article, we are explaining how anonymous post features, or what is the anonymous posting feature of Facebook, why people want to work post anonymously, and how to post anonymously on the Facebook group via your android, desktop, and iPhone. Keep reading!
What is the anonymous posting feature of Facebook?
As it can be estimated through the name, this mind-blowing feature (introduced in 2020) allows admin groups to do posting without revealing their identities. Even their identities are hidden from the group members. Yes, they are totally strangers in the comments sections. However, their identity will be visible to the group admins, moderators, and Facebook itself to enforce its community standards.
If you are thinking, will your identity be visual to the other group members too? Of course, you will be shown them as group members.
Why do people want to post anonymously?
According to the short survey, the main reason behind anonymously posting is that people feel more comfortable, confident, and safer while working hiddenly, especially if the group is public. That's why Facebook introduced this feature so more people can benefit from it.
During a group discussion in a workshop, Peter, a medical student at Nottingham, the University of England, told us his opinion on why he wants to work anonymously on his Facebook page. He told us that his page is about a relationship where he discusses all the guidelines and tricks to make your relationship ongoing. Predominantly he advises on his experience with his partner. If she comes to know about that page, he doesn't want to face her reaction even if it's not wrong, but he thinks hiddenly, I can express my feelings and opinion well.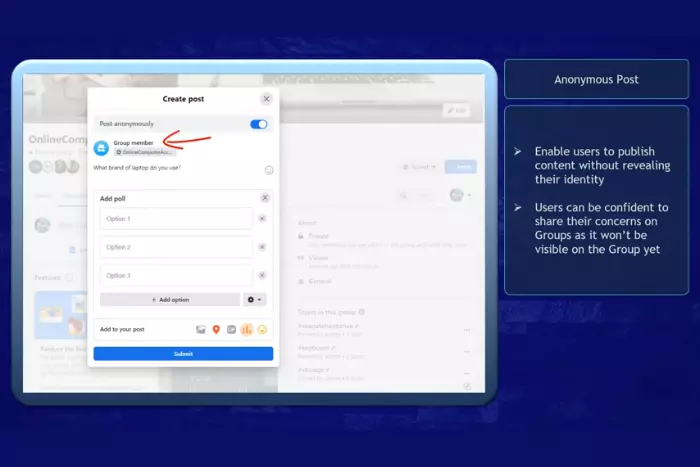 It proves that anonymous posting has made people more robust, confident, and opinionative, necessary to strengthen any nation's development.
How to post anonymously on a Facebook group with a desktop
Anonymously posting is relatively unchallenging. You can easily turn on anonymous posting in a few steps through desktop or any mobile (iPhone or Android). First, we will guide you on how to post through the desktop. For that, we suggest you take your desktop or laptop along with you. In this way, you can more feasibly understand and follow the steps. If you have opened your system, simply login into your Facebook account. Later on, follow these given steps.
After login onto your Facebook account, select the group you want to work with anonymously.
Moving forward, you will see the anonymous post option. Just toggle on the switch to post Anonymously. ( If it's not showing, it means the admin has not given you posting rights)
After that, a prompt will be aware. You will see click on the button option downward. Simply click on it.
Now you are prepared to post without revealing your identity.
How to post anonymously on a Facebook group through your iPhone?
It's an amazing feature that you can post anonymously on Facebook groups anywhere you are through your iPhone. But before posting, keep in mind that to maintain Facebook community standards, your account details will be visible to Facebook admins and moderates. However, to enable anonymous posting through the iPhone, do follow the given instructions.
Login on the Facebook app through your email and password. You can see three even lines on the right of home screen. Click on these lines.
After clicking the horizontal lines, you will reach the main menu, where you can easily find the group option. Click on it and choose the group you want to make anonymous post.
After that, go to the compose posting bar. Here you will see the compose post option down below. Dongle it to the right side, and you are ready to post anonymously.
Note: you will be noted as a participant in a public group and a group member if you post in a private group.
How to post anonymously on a Facebook group with Android?
The anonymous posting through your android mobile is similar to the Facebook account. You just need to log in to your Facebook account after that,
Do click on the horizontal lines and click on the group icon first.
After that, choose the group you want to select for anonymous posting. But remember, if the admin has not given you posting rights, you can't post on that group.
Ongoing, you will see the anonymous posting option down below for toggling.
Doggle it so you can hide your identity from the public. Now you are prepare to create an anonymous post.
Ultimately, one should be strong enough to face the world confidently with their opinion so that people can get motivation from them. Thus, you can't humiliate anyone for having an idea. Here is the blog's end. If you have any queries related to that blog or want to give us feedback in the comment section below.