Facebook is the most popular social networking platform, with about 2,85 billion monthly active users sharing photographs and films with close ones and relatives People, in addition to contributing their own content, like sharing the entertaining or useful postings of others. It has become a preferred platform for connecting with and sharing material with family, friends, and coworkers.
Whether you want to share a selfie, an entertaining video, or an informative infographic, the social networking site offers a variety of post-exposure settings.
However, if you are adding anything to your Facebook page and want others to view and share it, you must first check that the post itself is shareable. This setting should be enabled, particularly if you are a brand and use Facebook as part of your social media marketing strategy.
Facebook enables you to rapidly reach a larger audience. Simply set the post's visibility to "public," and your post will be up in seconds. Once you publish your post, it'll be accessible to users all around the globe. Here, we'll go over the steps necessary to get your message distributed across Facebook profiles, pages, and groups.
How to make a Fb page post shareable
You can make your Fb posts shareable by following these guidelines.
1. First, navigate to Facebook's "What's on your mind?" section via the homepage.
2. Select the "Security" link that appears below your profile's name.
3. It leads to a list of options for changing the sharing settings for the post. You can make your post accessible to anyone (on and off Facebook) by switching to the "public" sharing setting.
If you choose "Friends," any of your Facebook friends can share your post. If you opt for "Friends Except," your post can be shared by all of your friends except those you specify.
When "Specific Friends" is selected, your post can only be shared with the individuals you specify. If you select "Only me," only you are capable of viewing and sharing the post. Under the "custom" tab, you can hand-pick a group of people to notify them about the post.
How to make an Fb post shareable after posting
If you've already posted without changing the privacy settings, don't panic. Older postings can still have their security settings edited. Follow the steps below to accomplish this:
Browse through your past posts until you find the one you want to share.
Click on the globe symbol located beneath your profile name and next to the post's date.
The menu of security configuration options will appear. Choose the appropriate alternatives from the menu drop-down.
After making your selection, your post will be updated so that only those who have access can share it.
How to Share an Fb Post without Making It Public
If you only want particular people to see a post instead of everyone, then you can choose to share a post only with selected friends, a group, or everyone except for a few people.
Simply pick an option from "Friends except," "Specific friends," or "Custom" when posting a post to control who can view and share it without making it public.
Keep in mind, too, that if you post something on someone else's wall, that person will have control over who can share it.
How to make your upcoming posts public
Follow the steps below to make all your future posts visible to the public:
To access this feature, visit Facebook and then click the arrow to the right of the Fb logo in the top right corner.
To access these features, select "Settings and Privacy" from the menu that appears.
Click "Settings" next.
Use the left-hand menu to access the "Privacy" option. In the section labeled "Your activity," you'll find the option "Who can view your future posts?"
You must set this to "public" for all of your future posts to be visible to the public.
Why should you make your Fb post private or shareable?
Many Facebook users wish to keep their posts private; therefore, the sharing settings are restricted.
However, there are several reasons why you may wish to share a post, particularly if you are a business. These are only a few:
Experts in specific fields may seek to share an article so that they can communicate their knowledge to a wider audience. Avoid doing this unless you are certain that the information is 100% accurate.
If you are active in your local community, you may want to share events or topics that are important to you so that other locals can learn about them.
Sharing is enjoyable. Want to share a humorous post with whoever happens to stumble over it? This is also conceivable, as your friends might continue to share it after you make the post public.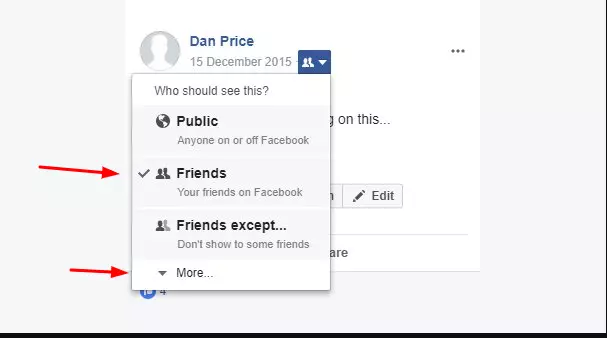 I can't share someone else's post—why?
If you try to share a post from another account but it doesn't seem to be working, the other user may have disabled their sharing options.
Unless the post's audience is selected to be "Public," it won't be visible to all users. Consequently, if you are unable to share a user's post, they may have changed their privacy settings.
You may express your ideas to the audiences you desire by learning to make a post shareable on Facebook. However, it's important to exercise caution when posting content online because it can potentially live on indefinitely.
Have any views or feelings about the topics discussed so far? Don't be shy; just drop them in the comment box.