You can publish or unpublish your Facebook page by simply stepping into your page's settings. But what steps to follow and how to publish or unpublish a Facebook page more effortlessly? Well, that is exactly what we are going to learn today.
But why does someone want to publish or unpublish their page on Facebook? Well, the main benefit of unpublishing is that it helps you ghost your audience. You can literally disappear from Facebook's search engine, while your page will still be functional.
On the other hand, the main benefit of publishing your FB page is that you will able to connect and communicate with your audience more comfortably.
A Facebook page is like a big stage where you show off your product to have your audience engage with it. In other words, when you have some work left behind the scenes, it is better to close the curtains and optimize the page.
Besides, deactivating protects your privacy by giving you the choice to make updates without having to interact with your audience. Whereas, a published page of your company helps you stay recognized and have your target audience find you much more easily.
Now let's study the steps needed to deactivate or activate your Facebook page:
How to Publish or Unpublish a Facebook Page Through Computer Or Laptop?
Let's talk in more detail about how you can publish or unpublish your page using a computer:
Go to your Facebook page, navigate to the left, scroll down on the sidebar, and select "Settings."
Afterward, General settings will appear where you need to find the Page visibility option and click on the "Edit" button at the top-right.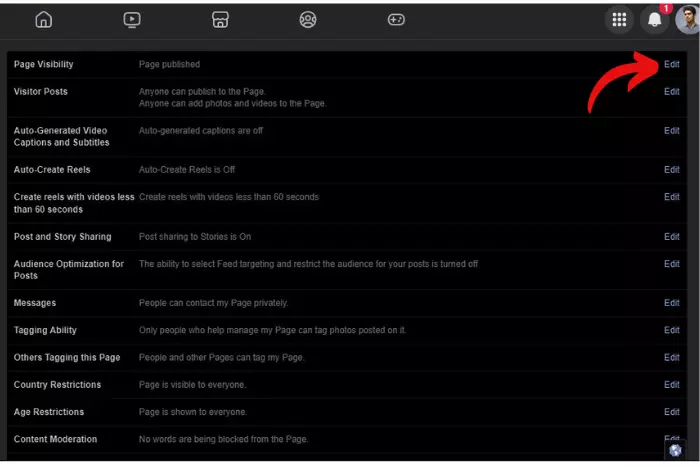 Now simply change from publish to unpublished option or unpublished to published in the selection menu and Save changes.
How to Publish or Unpublish Your Facebook Page Through Your Smartphone (Android / iPhone)?
Unpublishing and publishing your page on Facebook using a smartphone is slightly different. Let's explore how different it can be:
Open the FB app, click on three horizontal lines, and tap on "See more."
Afterward, tap on "Pages."
Select the page you need to finally publish / unpublish.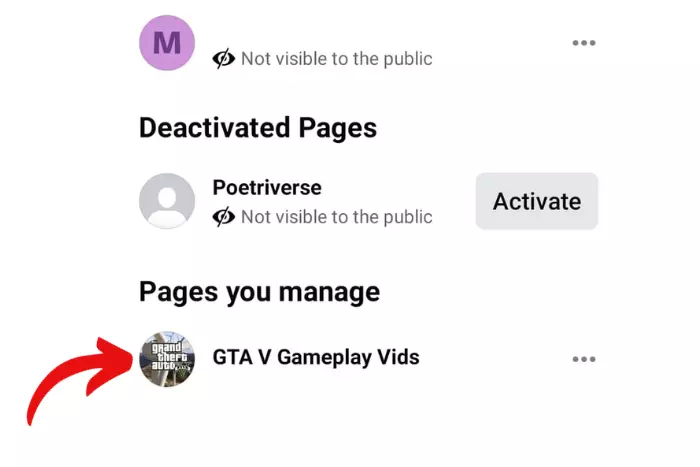 Now on your page, tap on the "Gear" sign at the top-right.
Tap on "General."
Scroll down to find Page visibility where you need to change the visibility from publish to unpublish or unpublish to publish.
FAQs
What Happens When You Deactivate or Activate a Facebook Page?
Activating or deactivating your Facebook page is a way to temporarily deactivate it or activate it. It will keep your page hidden from your followers once unpublished. And when published it will bring more followers. However, it won't be deleted if unpublished.
Apart from that, deactivating a page on Facebook is the easiest way to make some big or small changes to your page without having to make any impression on your followers.
When Do I Need to Unpublish My Facebook Page?
You can unpublish anytime. Especially, when you want to make some emergency changes to multiple posts. Usually, when we don't want our posts to be perceived the same way by the public, we should unpublish the page and make the changes. This is the most cozy and easy way to make the edits.
Is Unpublishing Facebook Page Same as Deactivating Your Page?
It is pretty much the same, except you will be able to apply changes to your page while being invisible to the audience. If you are thinking of making another page or simply want to disable the current page then unpublishing is the best option. It won't delete any posts, or affect anything on the page, but rather hides your page from your followers.
The Bottom-line
In this article, we have studied how to effectively publish or unpublish a Facebook page. The process is pretty easy, you only have to go to your page settings, find the general settings menu, and get to the page visibility option. Besides, this is where you need to choose the option to make your page invisible on Facebook.
In addition, this will unpublish your page but won't delete it. It is only a temporary deactivation. You can do that to update information and afterward, when you are done, go back to the settings and republish the page. That's it, thanks for reading!