To this day, Facebook has the most users of any social media platform. According to the most recent Facebook statistics, the site currently has 2.89 billion monthly active users. You would miss out on reaching 2.89 billion users if you neglected to Build a Facebook Page.
Facebook marketing strategies cannot exist without a Facebook company page. This is where you may promote your new goods and provide information about your business. In addition, your page functions as a route for assisting your clients. In this article, we outline the step-by-step method for creating an audience-attracting Facebook business page.
WHAT IS A FACEBOOK PAGE FOR BUSINESS?
Facebook business pages are public profiles for companies. You can make the location of your business, its phone number, and its hours of operation known to the public by using this website. In addition, it is the ideal venue for sharing business updates and promoting products, services, and events.
As a result, a Facebook business page enables you to establish a space for interacting with your crowd. In addition, by creating a Facebook Page for your business, you will receive access to Facebook Shops and advertising options. This permits you to post your products for sale on the platform and even create paid ads to expand your reach.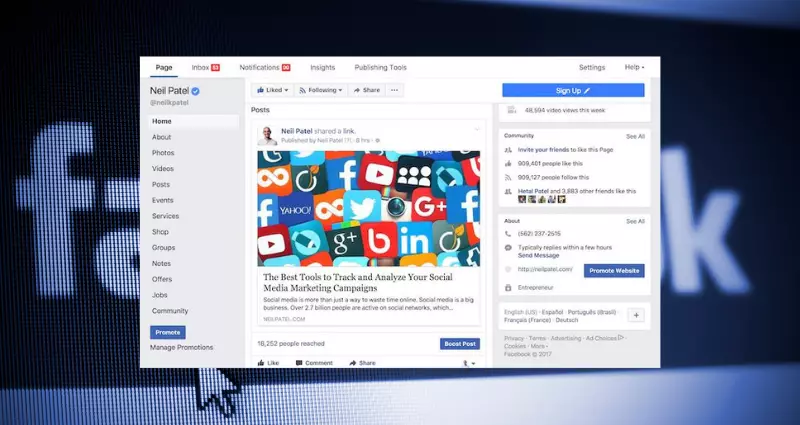 A personal Facebook account represents the individual in the meantime. You can choose whether others can see it or not. Users can "like" and "follow" business sites, but can only "friend" other users with personal profiles. In addition, a personal profile lacks the marketing and advertising options provided on Facebook Page for Business.
INSTRUCTIONS FOR MAKING THE BEST POSSIBLE FACEBOOK COMPANY PAGE!
Are you prepared to start your own Facebook company page? To start, do what's written below.
1. Create a Page in "Pages"
On your Facebook homepage, click "Pages" in the column on the left. This will display a dashboard where you can manage all of your profiles and pages. Under "Your Pages and Profiles," click the "Create New Page" option.
2. Type in the Page's Title and Category
Enter the name of your page next. This should be similar to your company's or brand's official name so that people will recognize it right away. In other words, choose a brand name that your buyers will look for.
Following this, you must include a business category. Input a keyword or two into the provided field, and Facebook will recommend relevant keywords. The maximum number of selections for your page is three. This is vital for helping individuals comprehend your business.
3. Add Your Page Bio
Although the bio area is optional, adding a brief description of your firm can be useful. Explain your company's mission here. Your bio is limited to approximately 100 characters, so be concise and clear.
The bio will appear prominently underneath your page's name, so it must be engaging and pertinent. Consider leveraging your brand's motto rather than writing a new bio. When you're finished, click "Create Page."
4. Include Your Business Details
Now that you've established the page, it's time to finish it by adding more information about your firm. There are a few pieces of information about your company that we need in order to finish the setup process.
Website address
telephone number
email address
physical address
business hours.
After filling in the blanks, click "Next" to move on to the next step in page creation. Optionally, you can skip this step and enter the necessary information afterward.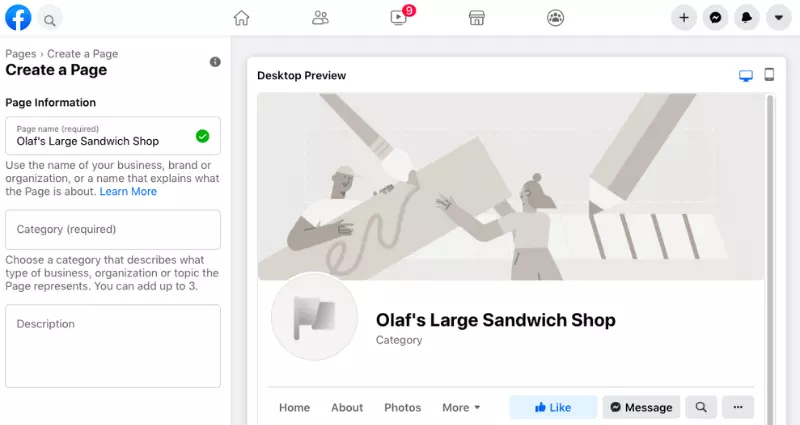 5. Compile Your Profile's Visuals
Customizing your page with high-quality images is among the most essential tasks. All eyes will be drawn to the visual content of your page. Therefore, you must use photos that accurately represent your business and are instantly recognizable.
The initial need is for a profile photo. According to our social media picture size guide, this image should be at least 180 pixels by 180 pixels. Remember that this image will be printed as a circle, so avoid placing any crucial information in the corners.
Businesses should ideally use their brand emblem as their profile photo. This allows the audience to immediately link the page with the brand they are already familiar with. Alternatively, local companies could include a photograph of the storefront or the proprietors. Some may even use a photograph of their best product.
Facebook recommends an 820×312 cover photo. Any image below this size will appear stretched and deformed. Consider using existing templates from photo editing apps such as Canva to guarantee that the dimensions of your cover photo are accurate.
You may also want to place a call-to-action button at the top of your page. This will assist in directing page visitors toward the desired action. You may want people to schedule an appointment, visit your store, call your company, send a message, or even purchase tickets. Select the most pertinent choice, then click "Next" and "Save."
Other alternative stages include integrating WhatsApp with your page and requesting friends to like it. You may want to skip these steps at this time and click "Done." But remember that you'll have to repeat these steps in the future if you want your page to remain healthy.
Improving your page's health is vital if you want to develop an engaging company page. Facebook will recommend steps you may take to improve your page at the top of your page. As you execute these things, your page's health will increase.
After creating your profile, you may add content and ads to promote it.
HOW TO KEEP YOUR FACEBOOK BUSINESS PAGE INTERESTING!
Establishing a Facebook business page is simple. The difficulty is in launching your page and maintaining its growth to create an appealing Facebook Page for Business. Here are some helpful social media management strategies.
1. Keep Your Business Information Current
Remember that consumers use your Facebook page to research your company. They may use it to determine your location or hours of operation. Include the most up-to-date facts about your company so that your page becomes a trusted source of information. For example, if you're altering your business hours for the holidays, be sure to provide that information.
2. Set Specific Objectives
Working toward a defined objective might give your Facebook marketing a sense of direction. Consider the objective of your Facebook page and your intended audience first. Do you wish to assist an existing customer community? What about acquiring new customers?
Determine clear goals that are attainable and can help the growth of your page. These objectives will ultimately shape your entire Facebook approach. This covers the resources you dedicate to your Facebook page as well as your overall content tactics.
3. Communicate with Your Customers
It's important to keep in mind that your Facebook page is not something that can be created and then forgotten about.
Customers may respond to your postings with comments and queries via Messenger. The inability to swiftly respond to clients may result in lost revenues or followers.
Therefore, you must be present on social media and be willing to engage. This does not imply that you must quickly respond to every question sent to your timeline or inbox. It does require that you closely monitor notifications and discussions.
It's crucial to invest in social media management systems that can help you monitor these conversations. For example, Sprout offers a central hub called Smart Inbox where you can keep track of all incoming social media messages, comments, and mentions.. Here you may check and respond to your Facebook comments and messages quickly.
4. Develop a Facebook Content Plan
Given our knowledge of the Facebook algorithm, brands must avoid being overly promotional. It is crucial to know when and how often to post on Facebook.
According to our research on how frequently brands should share content on social media, the average is several times each week.
Consider the desires of your target audience when developing a successful content strategy.
5. Use Analytics to Determine Your Next Steps
Your Facebook Page Insights may tell you a great deal about the efficacy of your current Facebook approach. It can demonstrate how people interact with your postings and the growth of your page. Utilize these insights to inform your decisions and enhance your current strategy. For instance, you may want to share more videos if your statistics indicate that your video posts generate significant engagement.
When you start promoting content through your page's ads, you may track how well it does. Experiment with various variants of your advertisement's copy, placement, and creativity to determine which has the greatest impact. This will help you develop an evolving Facebook advertising plan.
6. Continue Expanding Your Facebook page.
The aforementioned suggestions can assist you in establishing an appealing Facebook company page. Put them to use in conjunction with a solid advertising campaign to reach more people. Consult our guide on how to utilize Facebook Business Manager for additional tips and tricks.