Facebook accounts can be hacked quite easily if you do not have the right security measures in place. But how could someone hack an account so easily? And how to recover hacked Facebook account? Well, the account is only easy to hack when the security of the individual is not strong.
So what happens is the hacker easily cracks the code. This can only be possible for a hacker when your password is weak. And if your privacy settings are not right. We can teach you to recover hacked Facebook account. So that you can have another layer of privacy on your account. This will safeguard your account for long.
You only have to be patient since there are some steps you need to pay close attention to. So that you won't get hacked ever again.
To give you solutions to all those questions, we have provided you with answers to quickly take action. In addition, According to SonicWall's 2022 Cyber Threat Report, virtually every cybercrime increased in 2018.
This means your chances of getting hacked are higher. So you should learn how to recover your hacked Facebook account.
How To Recover Hacked Facebook Account?
It is frightening to know that cybercriminals can view your private Facebook posts. What's scarier is that they can talk to your friends as you for their benefit. So if you feel like your account is compromised, you can follow the below instructions to get it back:
Reset your Facebook Password Using a Browser or Android
Using Browser:
Select "Settings & Privacy."
Go to the "Settings".
Choose the menu item labelled "Password and Security" At the left accounts centre sidebar.
Again click on "pass and security" at the left.
To modify your password, select "Change Password."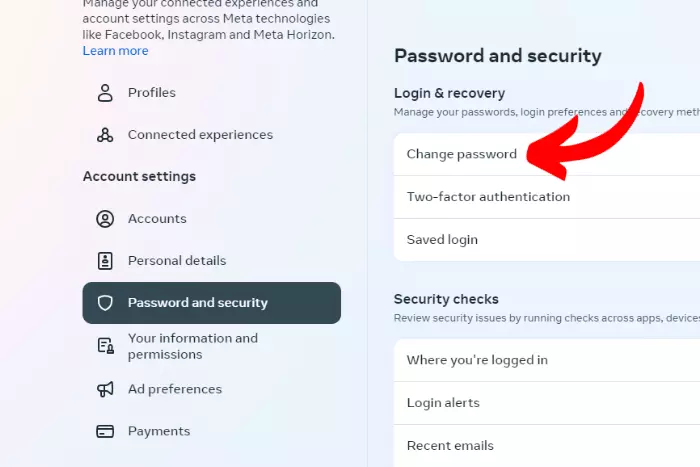 Using Android:
Touch your Facebook "profile picture" icon on your Facebook app.
Now move to the "Settings and Privacy" menu.
Go to the "Settings".
This time select "Password and security" from the account center tab at the left sidebar.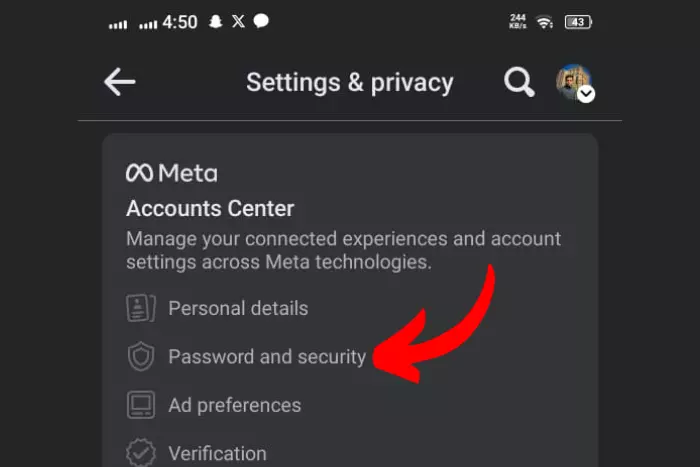 Tap the "Password and security" option once again in the account centre menu.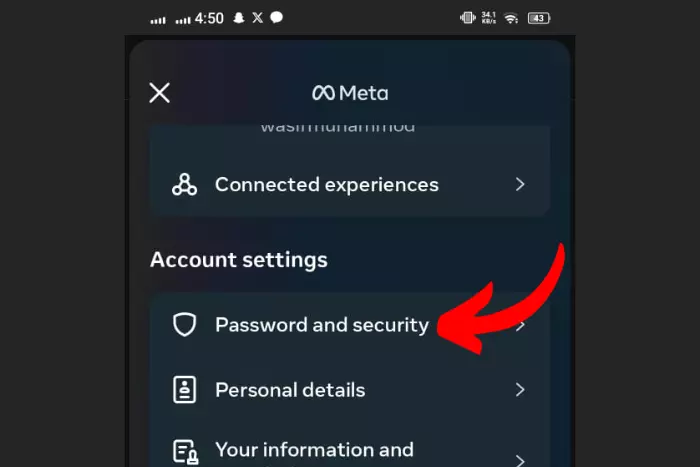 Select the "Change password" option to create a new password. After altering the password, you will see another option that says:" log me out of other devices." So tap that option. By doing that you will be logged out of every other active device.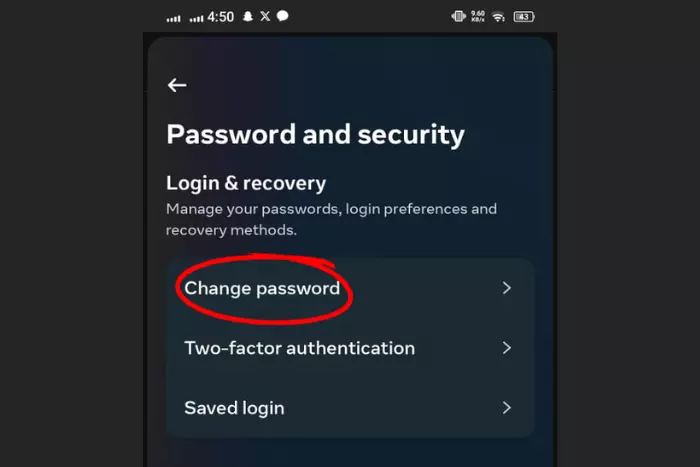 Counter an Unfamiliar Login:
The "Password and Security" tab contains a "Where You're Logged In" list. Follow these instructions using the browser if you encounter an unfamiliar login:
Click on "Where you're logged in" on the Privacy and Security menu.
Select one account.
Now choose any one device to log out. Especially the one you don't recognize.
After making your choice, hit the log-out button.
This is how you will recover your account from potential intruders.
Go Through the Facebook Account Recovery Process
If somehow you are unable to log in to your account, you need to choose Facebook account recovery. There is a 99% chance that the cybercriminal has altered your account login details. And this is why you can't log back in. So here is the process for your account recovery:
Move to the Facebook login window and tap "Forgotten password?"
You may see a "find your account" option. Afterward, add your email address or phone number combined with your account if asked.
Next, you need to click on continue so that Facebook can send you the code to your email or phone number.
Enter the received code when asked in the next menu.
Reset your password when Facebook gives you the option to. But this time make up a strong password for your account.
Six Ways To Stop Your Facebook Account From Getting Hacked Again!
Hackers can bypass your security if it is not strong enough. So To gain ultimate protection you need to implement the below steps:
By keeping these things in mind, the hackers are less likely to hack your account.
1. Upgrade Your Password Security
Create a stronger password so that no hacker can go through. Make sure to use capital letters and numbers as one as opposed to a single word. In other words, avoid creating a password that is easier to guess.
2. Visit Facebook.com/hacked
If you cannot access your account, visit Facebook.com/hacked and select the cause of inaccessibility. Next, you need to click "Get Started." Afterward, Facebook will inform you to create a new password.
Next up you need to review your email address and username. Finally, you will be shown a menu where you'll see your recent activities. So if you saw some post or comment you didn't do you can remove that.
In this whole process, Facebook will help you restore access to your account. And you will learn how to retrieve hacked Facebook accounts.
Facebook may attempt to safeguard you by locking your account if it detects unusual behavior on your account. You can surely unlock the account. But make sure to not take longer than a year. Or else your account will be permanently disabled.
3. Create Two-Factor Authentication
A 2-factor authentication system gives double the security to your account. And it becomes super hard for any hacker to bypass that. Your financial info, phone number, and email address stay safe. Here is how to enable that:
Click on your "profile photo icon".
Now Select "Settings and Privacy".
Move to "Settings".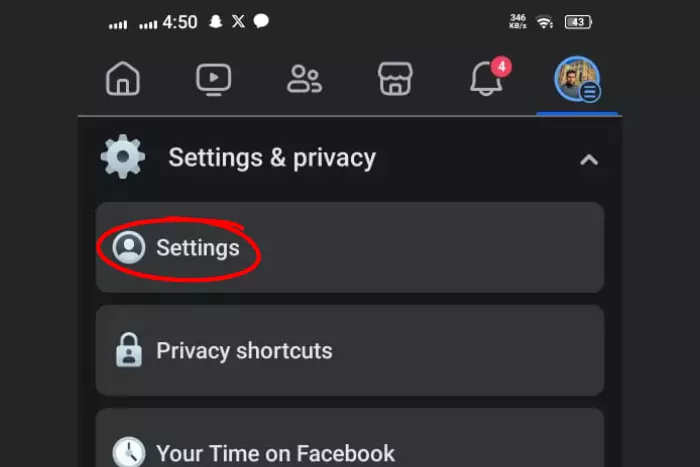 Hit "Password and security" in the account centre at the left sidebar.
Click on the "Password and security" button once again.
Now click on "Two-factor authentication."
Choose what method you would like to add and follow the further instructions.
4. Unlink Other Apps from Your Facebook Account
Although it's handy to use your Facebook credentials to log in to other services. But it's best to avoid doing it. For example, refrain from using Facebook login info to log in to other mobile applications.
Because it is like granting login information to these applications. To view the apps and websites linked to your Facebook account, navigate to "Apps and Websites" inside your account settings. There, you will see a list of apps and websites associated with your FB account. Now you need to unlink them.
5. Install Additional Security Measures
Here you will learn how to retrieve your hacked Facebook account through friends. In this process, you need to select three to five reliable Facebook contacts. So that Facebook can send the codes for you to access your account.
Afterward, you can ask these friends for information that will help you get back into your Facebook account.
6. Do Not Share Too Much On Your Facebook Account
If you share information like the last restaurant you dined in won't be of much value to hackers. However, if you start to share private information then that would be scary. So refrain from sharing any private info like phone numbers, email addresses, and details about family members.
History Of Facebook's Data Breaches
Facebook experienced a data breach back in September 2018. This breach occurred due to the problem with the "View as" feature. According to the reports, 90 million people's data was taken.
This means the attackers were able to access 90 million profiles. However, when the error was spotted, it was corrected. Afterward, in December 2019, hackers sold people's FB account data on the dark web.
And in 2021, 530 million users' data was leaked. There were also hackers behind this. It was a vulnerability in Facebook's system that drove hackers to take advantage of it.
Even Facebook themselves used to sell people's data to 150 companies. And without the permission of the users. So FTC imposed 5 billion penalty. Afterward, the privacy got better.
How to Tell If My Facebook Account is Hacked in 2023?
The first clue would be a notification. That notification will tell you that someone from another device has logged into your account. That city may not be where you are. Especially if you get logged out of your own FB account. We'll explain why it could happen and how to recover hacked Facebook account.
Well, Facebook experienced a data breach similar to the one that happened in 2021. It exposed the accounts of over 530 million users. A data breach will give hackers information like phone numbers and email addresses.
A breach this big can even put people's data like finances at risk. This can be dangerous since these hackers can steal your identity and scam your friends.
Closure
A hacked account can be recovered. Since you can always find out about the unfamiliar login info in the settings. There is a way to recover through creating a two-factor authentication system. The main point is to upgrade your security level by creating a stronger password.
More importantly by not sharing private and sensitive information on your social media pages. Lastly, you need to unlink other apps from your Facebook account. Because the apps allow hackers to slide into your private zone more easily. So you need to reset your account's password when you suspect anything. And analyze your privacy profile.