We all have been using the TikTok app for video making because using TikTok filters is fun. It amazingly enhances video visibility and attraction so that everyone appreciates your content.
Undoubtedly TikTok filters have made video editing easy. For example, you don't need to look all time perfect or wait for better light because you can balance the video saturation, color contrast, etc., with TikTok the Filter options. Also, you get a great activity in your spare time with TikTok AR filters in different categories like funny distortions, quizzes, games, or animated backgrounds.
Now it depends on you to choose a filter because TikTok gives you the proper authority of self-decision. But It also knows that it's okay for your edits to get perfect. Sometimes you want to change the filter or add a new one, or sometimes, you have changed your mood and want a new filter. Therefore it has also introduced a filter" removing feature " so you don't need to delete, re-edit from the beginning or delete the entire video.
However, if you are a TikTok user who faced such circumstances where you felt like removing the filter but could not do so because you don't know how to delete the TikTok filter, then this article is for you. Read it to learn how to delete TikTok filters.
How to remove or detach TikTok filters from your video:
Do you see? you can easily detach TikTok videos from your drafts folder? It may look like tasking, but if you carefully read the full blog, it will look like a normal process. So let's start.
The first step involved opening the TikTok application via your device.
After login into the application, move to the navigation bar. You will find it at the base after ticking the profile icon.
You will see the drafts folder. When you disclose it, you will get all the videos you left incomplete as drafts.
Now pick out the video which you want to update or modify.
Press that video and then tick the filter icon.
Now removing the TikTok filter is one step far from you. Just press the "Remove" icon, and the filter will disappear.
How to Remove Filters While Making a Video:
It may happen that sometimes you want to remove the TikTok filter while making a video so you Don't need to edit it from the draft. Therefore you must know how to remove or detach TikTok filters while making a video. For that, you have to disable the filter option, so learn how to disable the filter option from the TikTok app.
As always, sign in to the TikTok app via your mobile application.
Hereafter go to the plus button at the base of the video.
After that, go to the left side to tap Effects.
Now select the effects you want to disable.
If you see a red check mark on the trim icon, simply disable it.
Top on the "Turn off beauty mode.
At last, tick the diagonal line circle at the left of the menu.
Now the filters and effects are disabled.
How To Remove or Detach Filter From A Saved TikTok Video:
It's sad to tell you that you can't remove or detach the filters from the saved TikTok videos. Thus, The filters can only be removed from the drafted and live-recorded videos. Therefore, it's advised to keep an extra piece of video in the draft folder. Because if you feel like bringing change to your content, you can do it with a sample video.
Moreover, never trust blogs or UTube videos that guide you on removing filters from the saved video that are already present in the video. But you can do other amendments. For example, you can add stickers to the part of the video you want to delete, Or you can write any note, remove the background on it, etc. For such changes, you can get various editing apps like PicsArt, Kine-master, Inshot, Luma Fusion, etc.
How to Remove or Detach TikTok Filter from Other People's Videos:
Woefully, TikTok does not allow others to edit other users' videos. You are only capable of removing the filters from your own drafted video. Thus, It is illegal for TikTok to take someone else's content and edit it for your page. Therefore it has not offered its users to edit someone else's content. However, they can edit your content because you own it.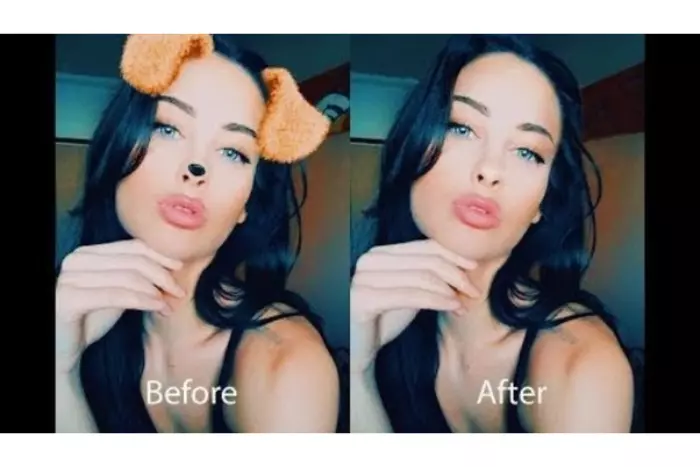 It may be possible from advanced apps, but you should not support them.
How can I make a TikTok video without any filters?
Even though numerous video editing options are available, people still love natural things. For example, if they watch any hilly area video, they want to feel its beauty naturally without filters. The most crucial issue is that the public wants to see your natural beauty. So you must know how to make a TikTok video without any filter.
Sign in to your TikTok app to find the filter side.
Here you will see the "Portrait" icon.
Click it to choose the "Normal" icon.
Now you have to tick the Effects icon. You will find it along with the record icon.
Afterward, go to the "Beautify" suggestion.
At last, adjust all values to zero in the "Makeup" tab.
Now you are ready to make a Tik Tok video without any filter.
TikTok has introduced a Filter option to make its usage more enjoyable. So use that app as fun for you if you have a private account, not to impress people to show you are filter-free. Thus, they have seen you without a filter. It's just a piece of advice on whether to use a filter or not. It's your choice.