Facebook has a lot of security policies. Sometimes we accidentally break it, and usually, it happens when you post something that does not meet Facebook's community standards. If you are wondering how to unrestrict on Facebook, then read ahead.
First, what you need to know is why Facebook has restricted you. Restrictions are applied only to protect the individual and the people in his circle. You might not have posted anything, and it could be a virus from a link. Whatever the case, let's talk about this in detail:
How to Unrestrict on Facebook: Step-by-Step Instructions
A banned account can be pretty irritating, and we all know why. Social media is something we are all a big part of. Facebook has a huge number of users which make it a big deal.
Being unable to speak with friends or post at all is painful for some. You must be wondering if a solution can help. Well, you can stop wondering because we will discuss unrestricting your Facebook account in detail.
Let's get to the solution:
Review What The Restriction Says
Acting on the restriction message is the first thing to go with. Learn about what kind of restriction it is. You will receive a notification where you can see the note from Facebook asking you to take corrective actions next time. The notice also tells you for how long you are restricted.
Fixing the Facebook Restriction
One solution to get unrestricted is to forward a complaint to Facebook. Either you are temporarily restricted or permanently. If it's temporary, just wait until the Facebook account restriction lasts.
And if you do not like waiting, then complaining is the best decision. Now let's talk about how you can appeal to the Facebook administrators. Here are a few steps for an appeal:
Go to the Facebook "Help and Support" section in step one.
Now Tap "Report a Problem."
And tap "Something Went Wrong."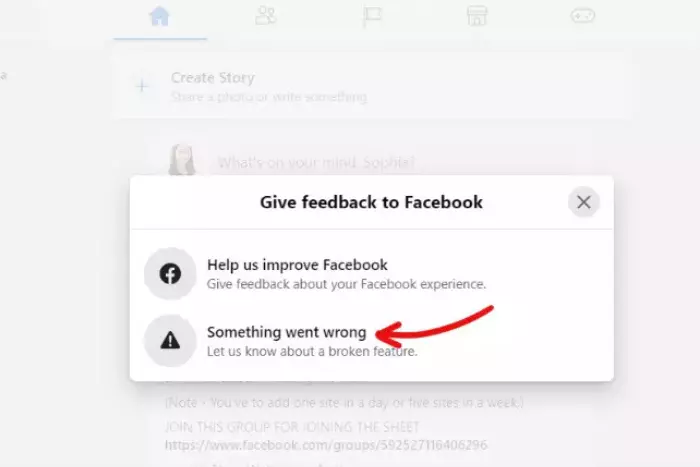 Finally, you must give all the details and screenshots and submit the report.
Alternative: If the above method seems complicated, then you can always report the issue through "messenger live support."
How to Recover If You Get Temporarily Locked?
With this restriction, you cannot open your account. So to resolve this problem, here are three crucial steps you can follow:
Open this Link to the Facebook help center to submit your report.
Select "Recover your Facebook account if you can't log in."
Afterward, follow through with the procedure and get your identity verified.
Confirm your identity by following the given instructions, and at the end, your account will be recovered.
How to Recover from a Permanent Restriction?
Permanent account restriction happens to disable your account permanently. Not to worry, though, because this can be resolved too by following the steps below:
Go to this Facebook help center Link.
Afterward, provide the required information.
Write a complaint if your account is wrongly disabled or due to a virus.
Be concise when writing a complaint, and develop a friendly tone. In the end, if you do not receive any message from Facebook within 30 days, then this means your complaint has been declined.
Preventive Measures To Take To Lift Your Facebook Account Restriction
Here are four measures you can take not to get blocked by Facebook:
The First thing you should be doing is reading the community guidelines provided by Facebook. Following the community guidelines is extremely important.
Always avoid posting explicit content, including hate speech and discriminatory content.
Ask for permission before posting copyrighted content.
Do not spam or create multiple accounts.
Facebook Restriction FAQs
Is a Facebook Account Restriction Temporary?
Yes, for sure. Although the duration depends upon multiple factors like how badly you violated FB rules. While in the ban period, you can't comment, like, or post. Whereas you can go online, scroll around, and ghost people.
Why Should I Be Waiting For The Account Review Appeal?
It takes some time for Facebook to reply to your appeal. You just have to be patient. It takes some time to process the appeal because there are thousands of other members with appeals in the line. You will get an email or see the results on your account's status.
How Long Does the Restriction Last?
You will only get a warning message if it is your first time violating a Facebook rule. You will be restricted for 24 hours if it is your second time. And if your third time, you can go to the FB jail for like a week or so. Mostly the given time depends upon the severity of a violation.
Minor violations will be of 24-hour duration; for example, if you have been spamming comments and spam sharing a post. Or if you have posted inappropriate content.
Whereas severe violations like hate speech and encouraging violence will get you banned for at least a week or even a month.
The Bottom-Line
We discussed how to unrestrict on Facebook, how long it can last, and why it is better to read community guidelines. Facebook has a lot of reasons to ban you. You must have been spamming comments, or you might have posted explicit content, or it could be hate speech.
It can also be a misunderstanding because sometimes certain memes have a message that someone could find offensive. Whatever the case, we have provided you with the solution to solve your problem. I hope you like the solutions we have provided. Once again, Thanks for reading!