An InMail is a LinkedIn feature that does not come free. Meaning: you would have to buy a LinkedIn premium account to have access to InMail. In this article, we will explore InMail benefits and talk about what is InMail and what it does.
LinkedIn is a great tool for a professional to acquire and win a job. It helps you get hired. And its premium version does the same but better. InMail is an interesting feature that can help you communicate easily with people you don't know.
What is InMail on LinkedIn? And What is Its Purpose?
An InMail is a private message that can be sent to any individual you do not know or are not connected to. You won't have to introduce yourself or contact information. You can directly approach a LinkedIn person by sending InMail.
InMail is a great feature that helps you directly approach the people hiring new candidates for a job that suits you. It has several interesting advantages that we will discuss below. One of which is that you don't need a person's email address to approach them when your premium account is active.
How a Company Could Benefit From an InMail?
It is beneficial for a company in a way that a company would be able to approach any skilled individual for a job hire. Through Inmail, companies directly contact the potential candidate to work for them in the future.
For example, you found an informative comment under an interesting post on LinkedIn. And that comment reflects the skill you want in a potential employee. So you would want to know that person and contact them.
In that sense, you can just directly send an InMail and call for an interview. You can send an InMail to anyone with or without a premium LinkedIn account.
What are InMail Credits?
An InMail credit is like a token for the number of times you can send an InMail to people you are not connected to. You have 20 to 50 InMail credits for a day when you first switch to a premium LinkedIn account.
As you start sending InMails, credits will reduce. The only way you get credits back is if you receive a response to your InMail. If nobody responds to your InMail within 90 days, you get no credits.
Another thing to note is that if your recipient responds to your InMail, you will get that credit back. Also if you delete the InMail before it even reaches your audience, you will lose that credit. Although fresh accounts and upgraded ones have a limit of 200 credits.
Although, if you are out of credits (nobody responded) then you can also buy them. You will see a "Buy more" option at bottom near your InMail messages option like in the photo below:
What is the Additional Info section on the LinkedIn Member's Profile?
An additional info section on any LinkedIn profile tells what kind of message the receiver is open to. That way you can customize your message before sending it to the potential recruit or someone you admire.
Although, the additional information won't be available for every single profile. Because some people don't mention it.
How to send an InMail?
First, you need to activate your LinkedIn account to premium. Once you get the premium account activated, move ahead to tap the message button. Afterwards, you will be able to send the InMail to anyone you are not connected to. Here is how it works:
Open LinkedIn either on your mobile app or through your Chrome browser.
Activate the LinkedIn Premium account if you have yet to activate it.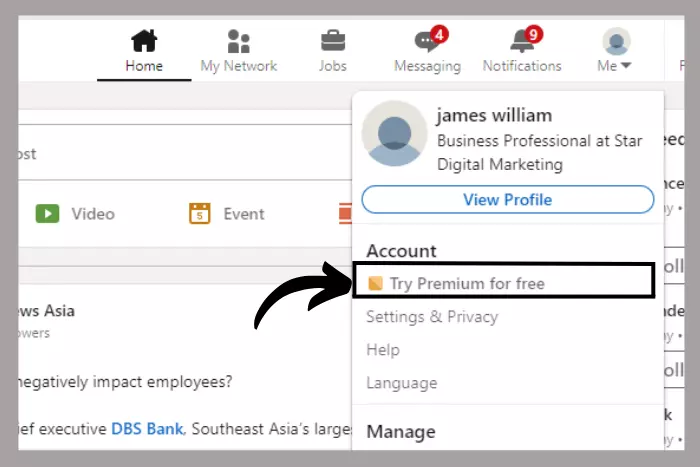 Once the premium is activated, navigate to the person's profile to send InMail.
At the person's profile intro, tap the "Message" button.
Write down the subject in the box and the message you want to recipient to receive.
Click send.
How to Write a Clear and Concise InMail Message?
It has been observed that not many inMail messages are seen by the recipient. Because many of them are stored in the spam folder. So it is better to write an effective InMail message so that it gets acknowledged. Follow the tips below to write a powerful InMail message:
Making InMails Short
Always make sure that it is precise and under 200 words. InMail does not allow you to cross 200 words. Focus more on quality than word quantity of the message. And be straightforward and concise. 150 words is the perfect length for an effective InMail.
On average, a lower number of people open an email when compared to InMail. This suggests there is a good possibility of someone opening your InMail at any time. So it is better to make it short and cute.
Personalize Your InMail
Personalize your message for each individual you are going to forward it to. Meaning: You should never use generic terms and make it professional and authentic. A personalized InMail has a better chance that someone will open it.
If you do not personalize it, it directly goes to the spam folder. A study has shown that in a b2b category people do not respond to an email when it is not personalized. Explain in your InMail clearly why you are reaching out.
Update Profile
Keep your profile updated as it is something that the recipient may visit. The LinkedIn profile has all the information. Make sure the information you have provided on your page is correct. And if it is not then it is your responsibility to update the info. So keeping it up to date is a great idea.
Create an Attention-grabbing Subject Line
You must have heard of Subject in emails, well it is the same here in InMail as well. Always ensure that it is catchy to get the reader to stay engaged. A boring subject line would never grab anyone's attention.
If you were to receive the InMail, Think about what would push you to open the InMail. Write a nice subject line that you would love to read. This way you will be able to easily catch the client or a potential candidate for your post.
Avoid sending InMail on Friday and Saturday
There are always those busy days when the response rate is low. Those busy days could be holidays. But here it could be Friday and Saturday as well.
In the LinkedIn data and insight, it shows that people who send InMails on Fridays and Saturdays have a lower response rate. So save yourself some InMails credits and send the mail earlier in the week.
Things Not To Do When Writing an InMail Message
We have discussed how to write an InMail in an effective way. Now let's discuss what not to do when writing it:
Not reviewing or proofreading your InMail before sending is the biggest mistake you can make. We all can make mistakes, human error is a thing. So it is better to proofread and look out for any grammar mistakes before sending it away.
Writing a hollow InMail is also a big mistake. Make sure your InMail means something to someone. Personalize it to make it sound formal in a nice human way.
Spamming InMails is another big mistake to make when writing one. It is totally not ok to send too many InMails. Because it will send a negative message to the receiver and your InMail will end up rejected.
Not following up on the people who you have sent the mail to. Make sure to make one more move so that the recipient thinks that you are genuinely interested.
Giving up easily is the final and another big mistake you can make. It's never too late, so never give up. Because you will eventually hear back.
Conclusion
In this article, we have learned what InMail is and how to make it work. It has several benefits. Although, it is only available to premium users. If you have a LinkedIn premium account in your possession, you would be able to access InMail.
There are also InMail credits that you receive when someone responds to them. Each time someone responds to your InMail, you will receive the credits. Other than that, you can buy credits, if you run out.
Moreover, a company can vastly benefit from having a lot of credits on InMail. It is a great strategy to use InMail to hire professionals open to work.