Facebook is one of the world's most prominent social networking networks. However, Facebook's 2.6 billion users are aware of how Facebook uses its data. Find out why a privacy tool like Avast BreachGuard could be helpful in protecting your personal information and how to download your Facebook data.
WHY DOES FACEBOOK COLLECT THIS INFORMATION?
Unbelievable amounts of data are gathered from Facebook's users. Your Facebook profile includes your name, email, and birthday. This is the most obvious information since people put it in their Facebook profiles when they set them up or change them.
You also have your Facebook activity, which includes things like your likes, comments, and private messages. All of this data, including messages you've deleted, is saved. It helps Facebook put you in different groups, some of which are not too important, like if you are a politically active parent, and some of which are more important, like if you have depression and tend to hurt yourself.
Additionally, Facebook collects information about your off-platform activity. In 2018, it was discovered that Facebook spied on users even when they weren't logged into the service and was collecting data from their text messages and phone calls. Your Facebook history includes far more than just platform-specific actions.
However, if your Facebook privacy settings are very broad or if you are connected to your account, even the most powerful anti-tracking software will not be able to fully shield you from the data Facebook obtains about you.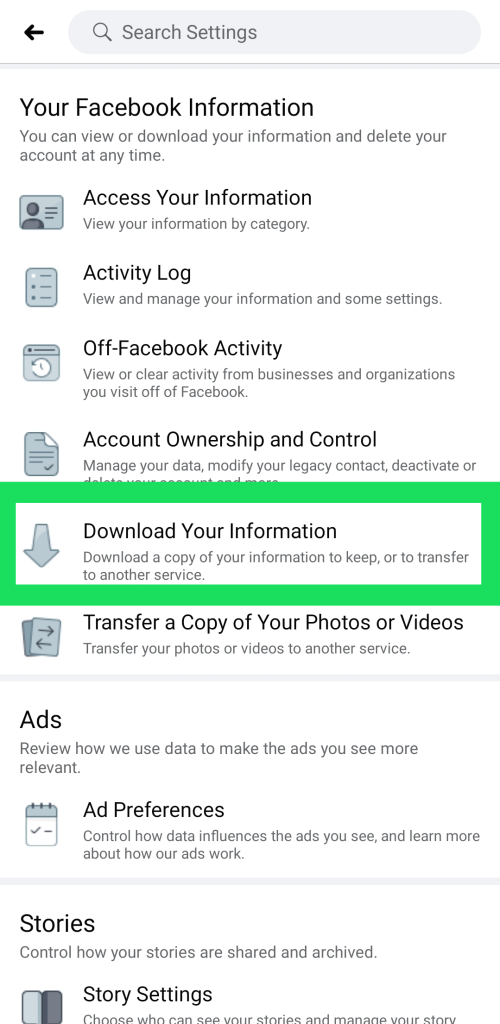 HOW TO DOWNLOAD FACEBOOK INFORMATION?
You may easily get your Facebook data; you only need to know where to look and how to proceed. It also takes little time. Your Facebook data download should take less than 30 minutes from start to finish. In any case, it takes a little more effort to comprehend the significance of your data and the potential applications it may have for advertisers and others.
Let's get started.
HOW TO DOWNLOAD FACEBOOK DATA ON MACS AND PCS?
To save your Facebook data on your computer, follow these steps:
Go to your Facebook homepage and click the downward-pointing arrow. An expandable menu will be displayed. Select Privacy & Settings.
On the Settings & Privacy menu, click Settings.
On the left, click the link labeled "Your Facebook Information." On the right, a new list of possibilities should emerge.
The Download Your Data option can be seen by clicking View.
Determine the time range to be downloaded, the file type, and the quality of the media to be downloaded. For the most straightforward and easily digestible presentation of your data, stick with the default choices of "All of my data," "HTML," and "High." Change the preferences if you're only interested in a specific time period, prefer to work with your data in a different format, or prefer low-resolution photographs.
By scrolling down the list of categories, you can deselect the ones you're not interested in, such as Posts, Photos & Videos, and Comments, if you don't want to download everything from Facebook. However, for the most comprehensive data collection, keep all options selected.
After selecting the desired choices, click "Create File." When a backup of your information is created, a new window will appear to let you know.
This will take approximately 10 minutes, so find something to do in the interim. Facebook will notify you through email when your file is ready.
To get back to the Data You Can Download page, just click the warning. You can find the necessary date range, categories, and file type under the tab labeled "Available Copies." Download your information by clicking "Download."
Upon selecting the download option, you will be prompted to enter your password again. After that, the download will begin.
This step should take no longer than ten minutes, though it could take longer if a large amount of data needs to be downloaded.
After the data file has been downloaded successfully, extract its contents from the zip file.
You can now investigate your Facebook data. You can compare your data archive in the future by going back to the Available Copies tab after you've downloaded a copy.
HOW TO DOWNLOAD FACEBOOK DATA ON A MOBILE DEVICE?
The procedure is identical on an iPhone or an Android device.
It's easy to go to Facebook's main menu: just open the program and hit the icon (three parallel lines) in the upper right. Select Settings & Privacy from the resulting menu.
You should now see a second drop-down menu. Select the Settings option from the menu.
This link will open a new page. Scroll down until you see the heading Your Facebook Information, or look for an option with a down-pointing arrow that says Download Your Information.
Select the information categories you wish to download. All categories are automatically selected by default. Maintaining this setting will provide you with a complete overview of the information Facebook has collected
Select the date range, format, and media quality for the data to be downloaded. In contrast to the desktop version, these settings are shown vertically in the mobile app.
Select "Create File" once you have decided on a time period, file type, and media quality for your data. In the list of available copies, the file will be marked as "pending." Facebook may need a few minutes to make your file. When your data is ready to be downloaded, you will be given a signal to let you know.
You can save the file to Dropbox or another cloud-based storage application after downloading it to your mobile device. To access this page from the web browser on your mobile device, you will need to enter both your email address and your password.
After a file has been downloaded, you will be asked to store it in the appropriate app on your smartphone. Facebook also has a web app that can be downloaded directly to your computer.
Now that you know what Facebook knows about you, you can kick back and enjoy it.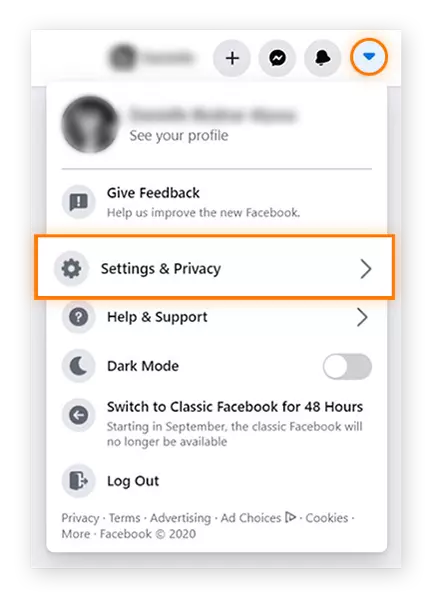 WHAT DOES FACEBOOK DO WITH YOUR DATA?
There are many ways in which Facebook uses the information you provide. Undeniably, the majority of it involves advertising. Facebook not only stores your data but also distributes it with advertising. Many ad-supported services, such as Facebook, rely on tracking your online activities to generate revenue.
However, this does not necessarily imply that Facebook is selling your information. Instead, Facebook sells access to you to advertisers using your information. Advertisers work with Facebook due to the abundance of data it possesses, not because it sells that data. Facebook would not be profitable otherwise.
However, if your Facebook account is linked to third-party apps and services (through Facebook Login, for example), data brokers may collect and sell your activities. The big social networking service claims that any data that has been shared with third parties or marketers is removed from its systems within ninety days.
Facebook has also asserted that it does not sell advertisers access to some information, including recordings of off-platform phone calls and text message exchanges. Having said that, it is fair to be careful.