Facebook is one of the largest and most popular social networking networks on the Internet. You may wish to record a Facebook video call in order to capture special moments with your family or to record a live video stream for later viewing.
But what is the most effective approach?
This post is for anyone who has trouble locating a video recording for Facebook videos. This article lists Fb video recorders for video chats and live videos. It'll also show how to record Fb video calls and go live.
Recording Facebook Live and Video Calls on Windows:
EaseUS RecExperts for Windows is compatible with various Windows Operating system versions, like Windows 10/8.1/8/7 and even Windows 11. It's the greatest solution for recording audio and video content on a Windows PC.
Advantages:
EaseUS RecExperts software:
is ideal for recording high-resolution Facebook videos.
can capture the video's sound, your voice, or both at once.
is also handy if you wish to record your webcam as an overlay for a video.
is useful for capturing anything on Facebook.
Key attributes:
Offers a built-in media player and trimming tool for editing the recordings
Supports a variety of commonly-used codecs for the output video/audio
An excellent webcam recorder for capturing both the screen and yourself simultaneousl
Supports automatic recording via a task scheduler
This recorder is appropriate for any situation. It facilitates the recording of videos from Facebook, YouTube, and Netflix.
Steps:
Start by launching EaseUS RecExperts. "Full Screen" and "Region" are 2 ways to record the screen. If you pick "Full Screen," the entire screen will be captured.
If you choose the "Region" option, the software will prompt you to define the recording region. Ensure that everything you wish to select is contained within the select box.
To explore options, click the button in the lower left. This recorder can record both microphone and system sound. "Options" controls the microphone and volume.
To record the camera simultaneously, click the "Webcam" icon. Tap the button to activate webcam recording, and a drop-down option will appear to pick the recording device. Click "OK" to confirm your preferences.
Once you have returned to the main screen, select the "REC" button to begin recording. During the recording process, a floating toolbar with pause and stop buttons is available. In addition, the camera symbol can be used to capture screenshots, while the timer icon can be used to automatically halt the process.
Save the captured video clips to your PC. When the media player displays, a set of tools to trim recordings, extract audio, and add opening and closing credits to the saved file are displayed.
Recording Facebook Live videos/calls:
Can iPhones capture Facebook video calls without a third-party app? It is simple for iPhone and iPad users to record Facebook videos directly on the device.
If your iPhone or iPad is running iOS 11 or 12, you may simply complete the task, like screen and audio recording are two of its most impressive capabilities. It is an ideal option for most users to capture Facebook videos on their iPhones and iPad. Want to record Facebook videos using an iOS screen recorder? Review the following instructional steps.
On iPhone:
select "Settings" > "Control Centre" > "Customize Controls." Locate "Screen Recording" in the list at the bottom and press the "+" button next to it.
Swipe down to access the Control Centre. Tap the screen recording icon and press the "Start Recording" button to begin recording Facebook video calls or live streaming videos. Tap Microphone Audio to record the conversation's audio.
To cease recording, press the red bar. The screen recording video file is then stored in Photos, where it may be viewed and edited.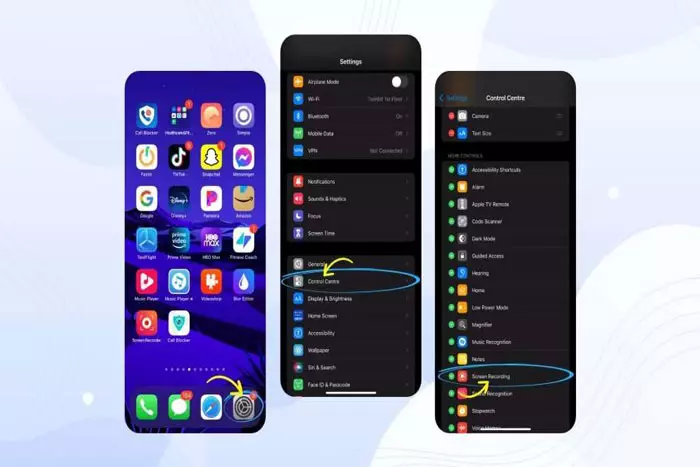 On Android:
DU Recorder is a Fb video recorder for Android devices. This app captures Facebook video conversations and live streams on Android. Using it, you may capture gameplay, video calls, and other streaming videos right on your mobile phone.
In addition, once you have recorded the video, you can edit it using the application's provided editing tools, such as trimming, combining, and adding music.
This app lets you adjust video resolution, quality, and frame rate (up to 60 FPS). It is an excellent application for logging everything and anything you can perform on your Android display.
Steps:
Download "DU Recorder."
Launch DU Recorder, and the record window will appear. Click the "button to capture your video call or live stream.
Click "stop" to stop recording.
On Mac:
On Mac, there are free and paid screen recorders. QuickTime Player and EaseUS RecExperts for Mac are fantastic Facebook call recorders.
RecExperts for Mac by EaseUS:
In addition to Windows PC, EaseUS RecExperts is also compatible with Mac. You may record Fb video calls and live streams of any size with this app. In addition, with its assistance, you can take screenshots to capture memorable moments captured during recording. Last but not least, a built-in player allows you to preview your recordings with a single click.
Key attributes:
Capture the entire screen or a customizable portion of it
Record screen and webcam at the same time
Record internal Mac audio or audio from an external audio device
Enable the creation of scheduled recording tasks
Allow you to easily assign screenshots to tasks
Steps:
Click the button below to download the best Mac screen recorder and start recording.
stall and open EaseUS RecExperts. To capture the entire display, select "Full Screen" from the main interface. To set the recording region, select the "Region" button.
Click the Sound button in the toolbar's lower-left corner to capture audio from the current screen session. The audio resources may consist of external audio or system audio. Depending on your situation, activate the target option.
Before capturing, you can alter the video's output format by choosing "Settings" on the main interface. Then, navigate down the Output format for the Video option. Choose a format.
Press REC to start recording. It captures everything on your Mac's screen. When complete, press the Stop button. Then, you may view the video under "Recordings."
QuickTime Player:
Apple's QuickTime player is fantastic. It plays many file formats. Does it only have one player? Nope. This shareware can also assist you with many fundamental screen recording tasks, such as capturing video calls and creating short instructional. If you intend to record a Facebook video call, follow the procedures below.
Start QuickTime on your Mac. From the menu, select "File" > "New Screen Recording." Then, join a video conference on Facebook or launch a live video.
To alter the settings, click the little triangle icon. You can simultaneously join a Facebook video call and play a Facebook streaming video.
Start the Facebook video by clicking the "red" button. A segment or the entire screen can be captured.
In the Menu bar, the "Stop" button stops recording. You can get the *.MOV video afterward.
You can easily record Fb video calls and live videos using any of the call and live video recorders we've described in this article. Choose the optimal application for the task based on your operating system and your demands.
EaseUS RecExperts is the best screen recorder. A few simple clicks are required to record videos of Facebook lives and calls. Additionally, videos won't have watermarks.