Our step-by-step guide shows you how to keep Pin A Comment On Instagram at the top of your feed.
Instagram being the most reliable source of entertainment, also provides you with the best and the most helpful set of features. These features are designed to keep in view the necessities people bring forward. Off and on Instagram updates help you access these features, thus making your overall proceeding on Instagram better, more efficient, and appealing.
Besides entertainment, those who use Instagram for professional purposes, including marketing and business thus, can get benefited from these incredible features. Either you can help yourself, or you can ask for help from others, either directly or indirectly. Let's see how it proceeds.
Sometimes, a random comment is helpful enough to reduce your efforts. For example, if you are a marketer and one of your followers has shared a story where your hands have to lend him, you need to add that to your Instagram too. Besides all other conventional methods, why not let people know about that stuff themselves? This will create ever-lasting impacts.
For that, many people use the Instagram comments pinning tactic. It is, doubtlessly, the most effective way to say about yourself without saying anything at all. This feature of Instagram applies to both your posts and your live streaming. But you must first have a deep insight into how it goes.
Pin Instagram Comments:

Sometimes, you will like to describe your Instagram comment section's best-expected environment to highlight the positivity and moderate negativity. For that purpose, you may want to pin the comment specifying it to the best. If you want to do so, you can accomplish it by following a few steps.
Instagram Posts:
If you are using a device other than a computer, log into your Instagram account. The procedure goes the same for all the versions of Instagram.
Once you have reached the main interface of your Instagram account, find the post whose comment you want to pin.
Once found, open the comment section and navigate through all the comments. Choose the one you'd like to pin on your Instagram account.
Tap the comment once it has been found. In these options, see the "Pin this Comment" option. Click it, and your comment will be pinned on your Instagram.
Following the same procedure, you can pin up to three Instagram comments on one specified post.
On Instagram Live:
You can also pin comments o Instagram live. The procedure for that is relatively straightforward. All you have to do is follow a few essential steps leading you to the pinning of your decided comments.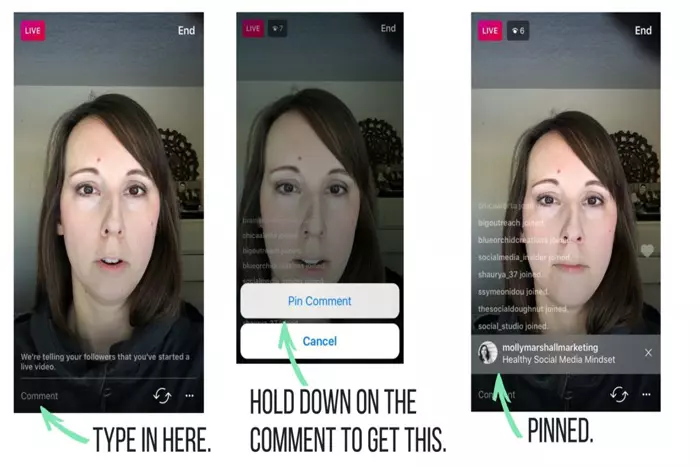 The following are listed:
Check out your Instagram account. You should prefer to use your mobile device to access your Instagram account.
Go to the live section, and be ready for your live streaming. Once you go live, you will start receiving comments.
Try to find the comment you want to pin on your live chat.
Once found, click it, and you will again be given the option, either to reply or to pin.
Tap the "Pin this Comment" option. Your comment will be pinned as long as your live stream proceeds.