This article describes how to download all of your Facebook images at once, as well as the reasons why you may choose to do so. Follow these steps to download all your photos from Facebook accounts, pages, and groups. Facebook Likes are a way for users to show approval or support for a post, page, or other content on the platform
How Do I Save My Facebook Photos From My Account?
Facebook facilitates the download of all your images, so you do not have to save each one separately.
How To Save Facebook Photos To Your Computer?
Facebook's website on a PC is one means of achieving this. If you want to know how to do this by utilizing the smartphone app, keep reading!
Choose your profile picture from the menu that appears in the upper-right corner, then choose Settings & Privacy, and finally choose Settings.
Pick Privacy from the left side, then Your Facebook Info (for profiles) or Your Facebook Page Info (for pages) (for pages).
Choose the menu item labeled "Download profile information."
Choose a file type (HTML or JSON), quality level (high, medium, or low), and time frame from the drop-down menus. Some examples include HTML, High, and All Time.
If you do not wish to download everything that you can potentially save from your account, deselect everything under Select information to download.
From the drop-down menu, choose Posts. Select Groups to download information from the groups to which you belong.
Get the file by going to the page's bottom and clicking the Download button. While Facebook downloads, the button turns grey.
The download will be confirmed by email and Facebook.

Clicking the link in the email will immediately redirect you to the "Available Files" section on the "Download Your Information" page.

Just hit the "Download" button.
Enter your password at the prompt, choose Confirm, and then enter it once more at the last prompt.
Pick a saving place to store the file. You can either enter a name or use the predetermined Facebook (your username).
To get to the photos you downloaded from Facebook, you need to uncompress the file (many programs do this) and then go to the Postmedia folder.
Download Facebook Photos From The Facebook App?
Saving many Facebook photos at once from the app works the same way it would on a computer.
Tap your profile image to access the menu, and then navigate to Settings & Privacy > Settings at the bottom of the menu.
On the following screen, select Off-Facebook activity from the Security section, then click More Options > Download Your Information.
On the Request Copy tab, touch Deselect All, then hit Posts so that it is the only item that is selected.
If you want to make sure that everything gets saved, you have the option of leaving everything checked.
Below the fold, you'll find a form where you may filter photographs by date range, file format, and quality. The options include "All of my info," "HTML," and "High," among others.
Use the "Create File" option.
The Download Your Information window's Available Copies tab will load automatically after that.
Wait until the "Pending" status disappears, and then click "Download." If you'd rather not wait, you can subscribe to receive an email or Facebook message when the download is ready, at which point you can click the link provided.
Now your browser will open up to Facebook. When prompted, enter your login information and click "Accept" to start the download. On your mobile device, it will be saved as a ZIP archive.
When Should All Your Facebook Photos Be Downloaded?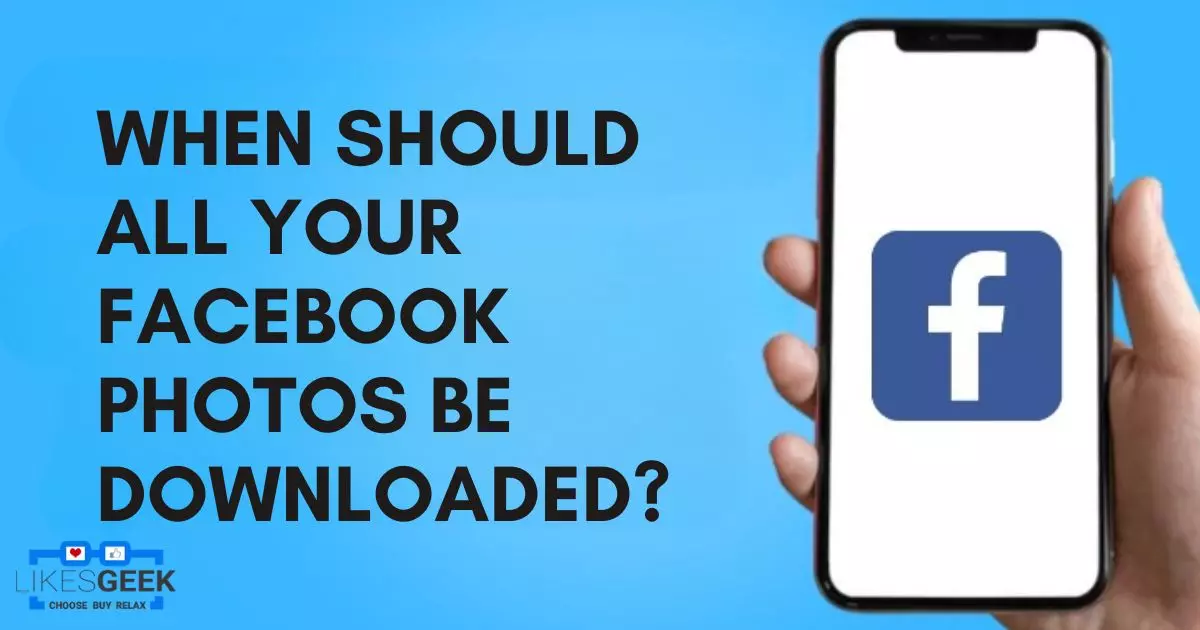 You may ask why you would ever want to save all of your Facebook images to your computer as opposed to leaving them online, where they have been for years. There are a few reasons why you might be doing this, but the most likely one is that you are closing your Facebook account.
Even if you deactivate your Facebook account, you won't have to throw away all of the photos that contain irreplaceable recollections. In reality, Facebook gives a way to download all your photos during the account deletion procedure, as most users choose to save their photos even if they no longer desire their Facebook account.
Even if you have no plans to close your account, you still have the option of downloading all of your Facebook photos to your computer in advance of removing them from your profile.It is recommended to do so. Perhaps you have photo albums that you no longer wish for your friends to view. Before wiping them, use the aforementioned instructions to download them in bulk.